A lot of agents have a hard time talking about their accomplishments. It can be awkward to balance stating your value as an agent while trying not to brag or toot your own horn. If you've ever struggled with Imposter Syndrome (feeling inadequate despite your experience and qualifications) when marketing yourself, you're not alone and there are tools that can help. The easy solution is to let your facts do the talking for you with a Visual Bio and Stat Sheets.
A visual bio is like a resume. It offers a brief summary of your expertise, education, certifications, and specialties. It's not just a biography; it includes graphics and visuals that transform it from an essay into a feast for the eyes. Beautifully laid out on your personal branding, it makes for an outstanding giveaway for client consultations and open houses.
An Agent Stats Sheet is a deep dive into your working history using facts and statistics. How many transactions have you worked on in the last 5 years? What is your sale-to-list price ratio? What is your average days-on-market? You should know these numbers by heart. Your MLS holds many important statistics, and this arranges them for easy reading. Take it a step further with a comparison of your stats with an average agent. The goal is not to speak poorly of other agents, but to demonstrate how you stand out from the crowd.
---
This is the perfect time of year to brush-up your bio and crunch your numbers with a branded Visual Bio and Agent Stats sheets. Add one to your tool box today! Call us at 360-527-8904 or email [email protected] today!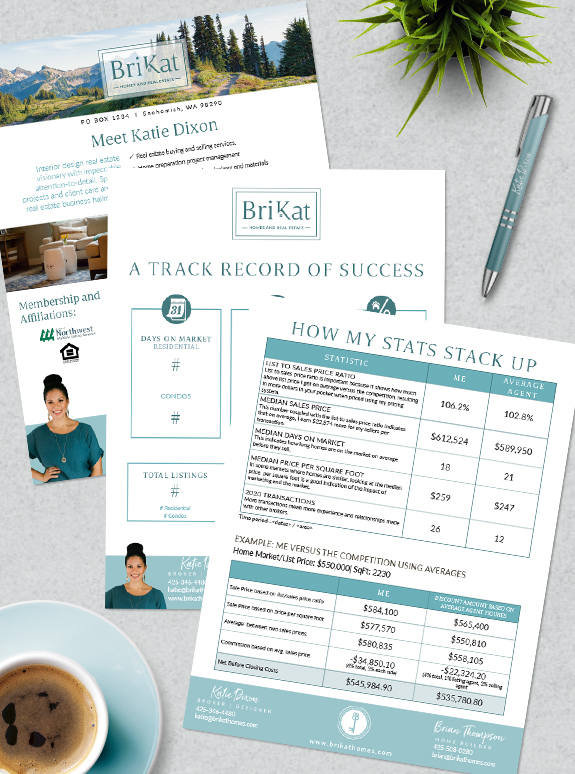 Curious about how your personal style can be represented in a professional brand? Book a branding consultation today!