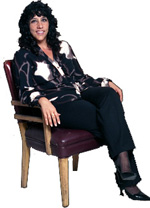 Q: Denise, what is your design style?  Has your design style changed over the years? 
A: My primary style is "dramatic", and my secondary style is "elegant".  And no – my style hasn't really changed.  Your design style remains fairly constant throughout your life.  If you like high-contrast design as a youngster, you'll likely be drawn to the same high-contrast as an adult.
If you're not sure what your design style is, send me an email.  I'll send you our FREE design style analysis!