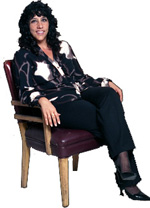 Q:   I'm going to take your advice and start using video in my business.  However, I'm stymied by the huge number of choices when it comes to a camera.  Can you please give me a few suggestions on what kind of camera to buy?
A:   The first thing you will want to do is determine what features are most important to you.  Audio quality?  Battery life?  Price?   Once you have a handle on that, do some preliminary research.  A great resource for product information is the Consumer Reports magazine (you can find it at libraries and online) or an online site called CNET.com, which reviews tech products.  After you've done some basic research, I suggest heading into a store to handle the different cameras.  Find a knowledgeable salesperson, and ask lots of questions!
We recently purchased the Sony HDR-XR160 High-Definition Handycam Camcorder, and have been very pleased with it so far.  I hope this helps!