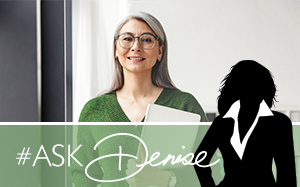 Q: "Denise, I was taking your Amplify workshop this week and now you have me thinking about my photo. I absolutely love a photo of me that I have been using in my brand and marketing for about 15 years now, but I wonder if I need an updated photo. What do you think?"
A: It isn't so much about the span of time between photos as it is about how you show up in your photo versus how you show up in-person. If someone has to do a double-take when they meet you in person for the first time after only seeing a photo of you, that means it is time for a photo retake. That might be 10 years between retakes, but usually it is closer to five years or even less. I have had clients change their hairstyle dramatically which calls for a retake. Change in confidence level? Retake! Or maybe you are exploring a new niche market and want to have some photos of you in the field? That is a great opportunity for a retake!
Yes, you may have more wrinkles than when you took your photo 15 years ago. You might look a little different in your photo now, but the last thing you want is to show up for a listing presentation with the sellers distracted wondering if the right person showed up than on what you are going to do to market a home. Schedule a new photo shoot today!