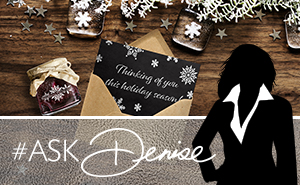 Q: "Denise, I feel like the holidays used to be so easy, but now I am so afraid of offending someone! I don't want to send cards. I am afraid of giving out ornaments or cookies or anything! I have clients who are all different religions or from different countries. An agent in my office just got chewed out by a client who didn't recognize her particular religion. I don't want to offend anyone. What should I do?"
A: Relax! If you want to recognize your clients for the holidays, then you shouldn't be afraid to do so. However, if you want to have a inclusive approach, here are some suggestions:
Try celebratory colors of gold, silver, and white instead of colors that are tied to a specific holiday
Use a more-general "thinking of you for the holidays" or "happy holidays"
Food items that are non-holiday-specific should be welcomed by most people
Instead of specific holiday graphics, use winter imagery
Don't let fear hold you back! Connect Connect Connect!!