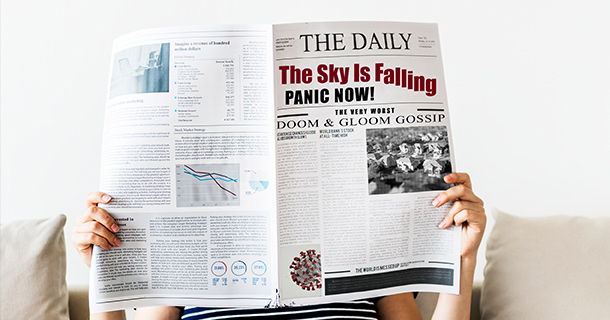 Hi everyone and welcome to this week's Zebra Report.
I thought it was really important that I address all of the headlines that are out there. You cannot look online. You cannot look in your email. You are probably getting text messages out there about the real estate market.
First of all, I want to talk a little about the fundamentals of our market and why today is very different from our Great Recession back in 2008. I want to talk about then and now. Then, anybody could get a mortgage. Literally one or two or three! Today, not so much. The lending criteria are much more difficult. Credit scores have to be higher. Debt-to-income ratios need to be a lot lower. So the fundamentals and getting money are a lot more difficult today than it was back then.
That created an absolute mortgage fallout. It created this vast number of foreclosures and short sales. Now people are wondering "oh my goodness, what's going to happen now?" "Oh my goodness, there's millions of people that were unemployed in just one month. All these people went out and got forbearances on their mortgages—does that mean the mortgage markets are in trouble? Are people going to go into foreclosure again?"
Remember, a forbearance is granted for the whole idea of helping someone through a difficult time. If you find out that you are unemployed, getting a forbearance makes perfect sense until you can get unemployment or until you can get back to work. Our market is very different today because we still have very, very strong demand. It's very different from the oversupply that we had back in and during the Great Recession. The thing that you have to remember is that the demand for homes is still very strong.
The one benefit, actually, of what will happen is we will see these double-digit price increases in some areas slow down. Because of the really sharp price increases that we saw in the recovery, which was a really strong one, it created an affordability issue in a lot of places.
Our market isn't crashing. Our market isn't tumbling. The fundamentals are still strong in there, but you have got to be really careful about reading those headlines. Boy, if you read them, it sounds like basically real estate is over! That's just not realistic and doesn't make sense. Our market and the fundamentals are still very very strong.
So get out there and spread some positive news. Do the research you need to do so that when you're speaking to your clients, you are speaking in a very educated format.
Until next  time, thank you for joining me for this week's Zebra Report.

By Denise Lones CSP, M.I.R.M., CDEI – The founding partner of The Lones Group, Denise Lones, brings nearly three decades of experience in the real estate industry. With agent/broker coaching, expertise in branding, lead generation, strategic marketing, business analysis, new home project planning, product development, Denise is nationally recognized as the source for all things real estate. With a passion for improvement, Denise has helped thousands of real estate agents, brokers, and managers build their business to unprecedented levels of success, while helping them maintain balance and quality of life.