When everything must be polished and graceful, you are likely to have an Elegant design style. If you're an Elegant, you respond to images of luxury and serenity. Quality is always more important than quantity. Your physical surroundings are assuredly created thoughtfully and with an eye toward classic beauty, whether they are formal, professional, or casual.
Gracious, and respectful, Elegants want a brand in which every element has been carefully considered. Sophistication, grace, and refinement are keywords of elegant designs.
Stacy Bias – Cream, gold, and a classic Greek-key ribbon elevate her brand with traditional elegance. The script font makes a decorative and functional crown to each piece.
Terry Vehrs – Rich teal sets off his gold monogram for a style of elegance that is perfectly at home in a professional or corporate environment.
Kitty Ballard – Silver and turquoise hint at vintage elegance, but the layout and crisp white backgrounds keep her brand modern and light.
Those with an Elegant brand style convey confidence and poise. But if that feels a little too stuffy for your tastes, we have seven other styles: Artistic, Bold, Classic, Dramatic, Eclectic, Natural, and Understated. Your design style may be one of these or a combo of two. Stay tuned for more info about the other design styles, or take our free Design Style Analysis to find out your personal design style.
To talk to a branding expert and discover how branding can make a difference in your real estate business, call us at (360) 527-8904, email [email protected]
---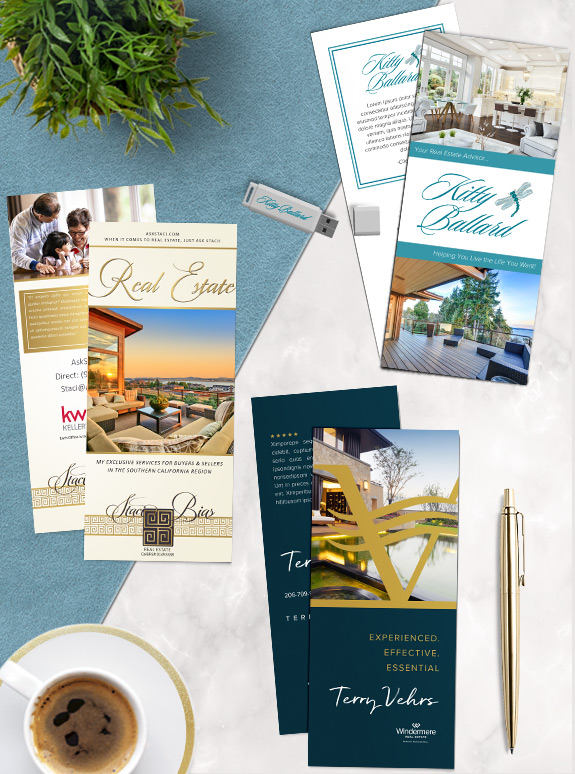 Curious about how your personal style can be represented in a professional brand? Book a branding consultation today!