That's some fresh insulation! Today, I am on site at a new construction project and I want to talk about the power of windows.
In this project, we took about 80% of the structure down to the foundation and we built up the walls to 10ft. Our goal was to get that panoramic window effect. Window technology has come so far that it's possible for us to have almost the entire side of this building open to the beautiful view.
If you notice, the windows can open and they're multi-slide. With the right product from the right window manufacturer, you can have windows that are up against a fire-place, like you see in the video. Every part of this house has windows and front-access to this body of water.
Windows are a big trend, and one of the things I'm going to be talking about in my upcoming class. I'm also covering how to pick the right windows without breaking the bank. You can see the corner window in the video is structurally integrated into the wall, but is also very cost effective. How? Come to class and find out.
---
Want to learn more about the latest trends in new construction–and how they impact your clients? Join us for our online workshop all about the 50 Hottest Trends in New Construction and Renovation!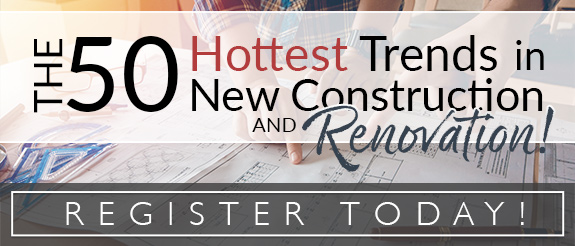 ---
---
By Denise Lones CSP, M.I.R.M., CDEI – The founding partner of The Lones Group, Denise Lones, brings nearly three decades of experience in the real estate industry. With agent/broker coaching, expertise in branding, lead generation, strategic marketing, business analysis, new home project planning, product development, Denise is nationally recognized as the source for all things real estate. With a passion for improvement, Denise has helped thousands of real estate agents, brokers, and managers build their business to unprecedented levels of success, while helping them maintain balance and quality of life.