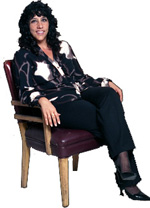 Q: I want to get training outside of what my broker offers, but there just isn't that much available locally.  I like the idea of your EVOLVE group, but I don't live anywhere close to you.  Is there an online training course you can recommend? 
A: Congratulations on making the commitment to continually improve your business!  The fact that you don't live near us doesn't mean you can't attend.  We do have agents join us from other states, but I recognize that's not a solution for most agents.
I can't wholeheartedly recommend most online programs or distance training because I find them very formulaic.  Most don't take into account your natural skills and styles – and as a result they're not usually very effective. However, online training can be an excellent way for agents to learn while in the comfort of their own home or office, on their own schedule.  The key is to find a training solution that resonates with you. No training works for everyone and some personality types need a more in-person training where they can actively engage with the trainer and other participants.
So do your homework. Think about how you learn best – by reading, by listening, or by watching – and find a training solution that will work best for your personality and learning style.