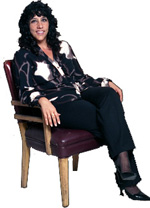 Q:  Denise, I am having business cards made. I am doing a two-sided card, but all my designation and certification logos won't fit on there. What should I do?
A:  Since we create brands for agents, which usually includes creating templates for letterhead, notecards, business cards, etc, this is a question we are asked a lot – "What designations and certifications matter and what should I include?"
The answer may surprise you. Most people outside the real estate industry don't know what the "alphabet soup" of designations and certifications means. If you put a lot of acronyms on a card, that may look impressive, but the real question is how do these benefit a client? Unless you take the time to educate the public on what those are and why they should care, then I don't think you need to put a lot of logos on the back of your card.      
I do encourage the agents I coach to have a page on their website that includes the logos for the different designations and certifications they have, define what each is and why it is a benefit to the client. I would also include this information in your buyer and seller packages and touch on this briefly when prequalifying a buyer or when you are on a listing presentation.
The National Association of REALTORS does a great job of this on their REALTOR.com agent profiles. If you are a REALTOR member, it has already linked your NAR endorsed designations and certifications to your profile. If you have not yet claimed your profile, you should do so immediately.