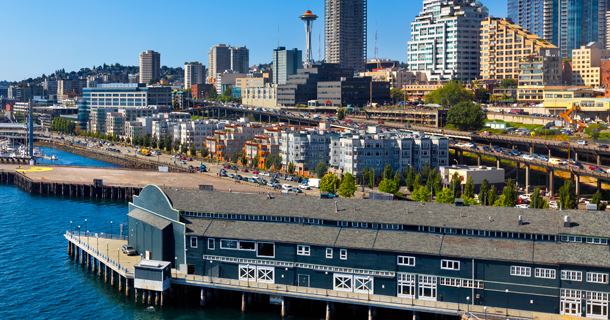 I have been talking about the possible alliance of the Port of Seattle and the Port of Tacoma for quite some time. I have watched with eager anticipation of what the two ports would do and ultimately whether or not the alliance would be allowed to happen at all.
I am thrilled and ecstatic to be able to announce that The Federal Maritime Commission has completed its "competitive review and analysis" of the alliance agreement and have voted unanimously to allow the Ports of Tacoma and Seattle to form an alliance which will be known as the Northwest Seaport Alliance.
This alliance allows the two ports to work together on the management, use and operation of the marine cargo business. They will also work together to plan the marketing and operations of the two ports. This includes establishing a Port Development Authority, this is a new government structure that is being created to oversee the Northwest Seaport Alliance.
This alliance will unite the two ports and will allow them to coordinate both their import and export functions. This alliance becomes the third largest trade gateway in North America behind Los Angeles and Long Beach and the Port of New York/New Jersey.
Considering that these two ports have competed for Puget Sound shipping business for over two decades is a big step forward. This new alliance will join both terminal operations and marketing efforts under one management. The governing commissions of the Port of Tacoma and the Port of Seattle votes unanimously to move forward with the alliance. What many people thought would never happen has happened.
The main reason the alliance was formed was to join operations to counter the competition from ports in Canada, Mexico, Southern California and even the East Coast. It is no secret that the Puget Sound ports have been losing market share in their container shipping business for many years, this will change that. With the Panama Canal expansion and the Canadian port tax breaks, this has put extra pressure on the Puget Sound ports and this new alliance will minimize that.
The new plan allows for each port to market and operate container and shipping operations in each port but to retain their assets. The new alliance will handle the day to day operating and marketing of these facilities. Each port will continue to operation their individual assets and The Port of Seattle will continue to operate Sea-Tac Airport, its cruise ship operations, marinas and fishing boat operations. The Port of Tacoma will also maintain its assets like the Tideflats and Frederickson industrial sites.
This alliance will bring new business to Seattle and Tacoma and will allow larger ships to do business here. It will also provide new jobs for our area. Keep an eye on this exciting alliance!