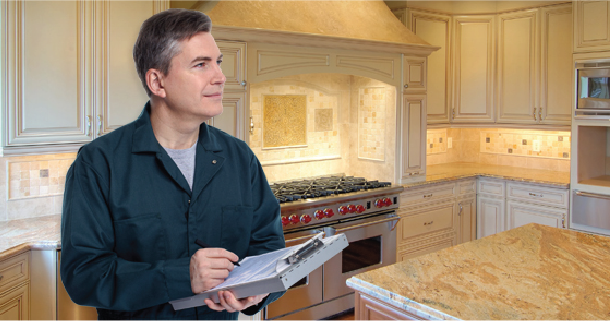 One of the first decisions you have to make when doing a home renovation is who you will work with to complete your renovation. I wouldn't even think of starting a renovation until I had all the players in place. A renovation is a project that requires an immense amount of attention to detail. If one person messes up on their part of the renovation, it can affect many others and your timeline for completion.
Here are some questions you must ask a potential contractor:
Are you licensed, bonded and insured? Don't even think about working with someone that says they are a contractor but doesn't have the appropriate licensing and bonding.
Do you have a list of clients that I can call? Don't even think about working with anyone who is not comfortable giving you names and contact information for past clients. You NEED to call these references and ask them how the project went and if the contractor stayed on budget.  You will learn so much by talking to others. Don't start with the person at the top of the list, go from the bottom up because most people list their strongest referrals first. Also, don't forget to call the Better Business Bureau to see if the contractor is even listed.
Have you done similar work? It is critical to find out if the contractor you are considering has done similar projects before. The words "General Contractor" are a very vague description of what someone has done in their past work. Ask to see projects and photographs of past work.
How many projects do you currently have? Make sure that the contractor has the time needed to work on your project. When a contractor has too many projects going you may be working with your contractor's supervisor, which could be fine, but you need to meet that person and make sure you like that person.
Do you have a sample of a past budget you have done? Ask the potential contractor to give you a copy of a previous bid or budget he/she has done so you can see the way he handles the paperwork and budget side of a project. Also, a good contractor won't even give you a final bid until he has seen a complete set of blueprints or has talked to you in depth about what type of finishes you want. Generally, on a renovation budget, materials will account for about 40% of the budget, labor another 40% and miscellaneous, which includes overhead and profit for the contractor, can be 20% of your costs.
Do you plan on working with your own crew or hiring independent sub trades? This is a very important question that you need to ask. Will the contractor use their own crew that they have on their payroll or will they be using specialized sub trades and if so have they worked with those sub trades before?
What is your process for change orders? Every renovation I have EVER done has changes that will come up at some time during the project. Ask the contractor how they will handle any change orders and if there is a standard charge to do a change order.
Do you guarantee your time estimate for work being completed? The best contractor in the world will still drive you absolutely crazy if they can't keep track of the time on a project. I have heard so many horror stories of homeowners who have been told their renovation will be completed by April and it was still not done by August. This is critical.
How do you warrant your work? Make sure to get this in writing because there WILL be issues after the renovation, they could be minor issues, but you need a warranty on the work that is done.
When choosing the right contractor, you should invest time and energy upfront so you can save time and money on the back-end of your project.