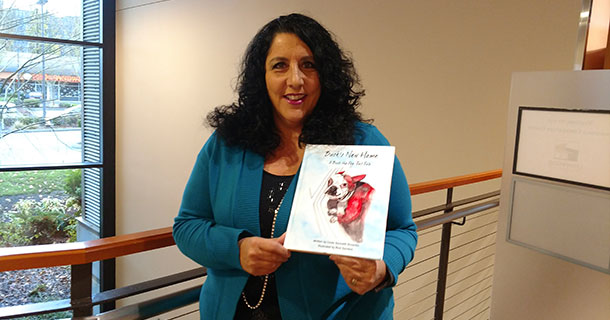 This is a story about an amazing client of ours, Linda Arvanitis, and her dog, Buck.
Many of you who are selling real estate today are doing so because it is your calling. You might have had a former career in retail, in sales, in management, or maybe you are even like several of my clients who used to tend sheep (yes, really) or you might have been selling real estate as soon as you left school. But something or someone told you that you should be selling real estate.
I actually talked to an agent client today who said that real estate was always something top of mind for him. As a teen, he did some research and advised his parents to buy some property. As a teen! That is definitely an example of an inner voice and passion directing future footsteps.
But perhaps a parent or grandparent were in real estate. Maybe you just love going to open houses and let your love of homes and spaces direct your path. Or maybe someone – another real estate agent, someone in the industry, or just someone on the sidelines, indicated you would be great in real estate and put the bug in your ear.
Once the right bug takes hold, it activates something inside you. You can't stop thinking about it!
I want to introduce you to an amazing, dynamic, memorable and dedicated real estate agent that I met through Women's Council of REALTORS®. Linda Arvanitis not only runs a successful real estate business in Ocala, Florida, she also is an elected leader in WCR and has served at both the local and state levels. She is constantly on the move, finding that balance between serving the real estate community and serving her clients.
As a fellow Greek, Linda and I hit it off immediately. She became our client and over the last almost-year, we have been working with Linda, her husband George, and son George Jr., to build a strong real estate business and brand. The three of them together all have their own strengths and areas of expertise. They have a great team.
But there was one member of the team we had not yet met.
Their Boston terrier, Buck, is the newest member of the Arvanitis Team and has managed to steal the hearts of just about everyone he meets (except for the lizards that plague him on a daily basis). But Buck didn't always get the attention that has been showered on him since he came to live in the Arvanitis home.
Linda found Buck at a shelter. He had funny ears, his markings were all wrong, he sported a snaggletooth, and according to Linda, no one wanted him. But she saw that he was spicy and that he would fit right in.
Now, Linda appreciates a good laugh and loves to make others laugh along with her. Her daughter's "three evil Chihuahuas" provided great fodder for her Facebook page for a long time, but when they moved out, Buck filled the void. In fact, Buck now has his own Facebook page with a following.
Linda gets a kick out of watching Buck's antics and records the moment in his perspective. For example, Buck came to the office a few weeks ago. He shared this on his page:
The Lady took me to her office downtown today. There are THOUSANDS of STUPID lizards here!!! But I can only watch them through the glass door. They frolic and play as if they think a glass door will protect them. Do they not know they are in DANGER? They sun themselves within 2 feet of me! How they taunt me! If they only knew my amazing lizard tracking and capturing abilities!! If The Lady would just TAKE ME FOR A WALK!!! I would prove it to them!! And then they won't be so smug.
Linda is referred to "The Lady" and George is named, "The Man". Buck's goal in life is to be his Bostonian self, lizard warrior (sometimes snakes and pinecones for good measure), and neighborhood hero.
Many of Linda's friends have gotten a big kick out of Buck and started telling Linda that she should consider writing a book. Enough people suggested it that she started thinking about it. The next thing she knew, she had a publishing contract in hand and a suggestion for an illustrator.
Now, Linda could have simply brushed those comments off or thought to herself that this would be a goal she could tackle when she retired. But instead, she ran towards her passion and now Buck has a book that people throughout the country are enjoying.
Buck's book, Buck's New Home, also is about finding home – that special sanctuary where you can be yourself. What a brilliant tie-in to Linda's real estate business!
I hope Linda's story is an inspiration for you to follow your passion!