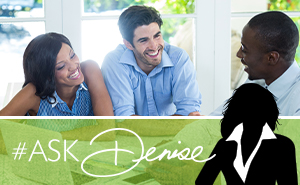 Q: "Denise, although I am not too worried about this since buyers seem to be back out in droves, prices in our market did make an adjustment over this time last year. I always report on year-over-year stats, but what do I do if prices have adjusted downward? Do I still report the information?"
A: This is a question I have been getting a lot lately because in some markets, we did see a small price adjustment. No matter if it is a small adjustment or a large adjustment, your job is to report the facts and provide your expertise.
Investment firms don't turn off the stock price ticker when prices dip. Instead, they offer analysis and advice to investors. I recommend you take the same approach.
For example, let's say prices in your market are down by 5% over last year. Remember, sold prices represent properties that pended last month but they may also represent properties that went under contract months ago. Supply and demand fluctuates all the time and most people should take a long-range view of investing in real estate. What are the other facts about your area? Are more people moving in than out? Are builders building more homes than are needed or are they having a tough time keeping up with demand? How is the local economy?
Assuming your local economy is doing well and you have plenty of people moving to the area, I would say something similar to my example below and show a 10-year view of sales prices so they see the long-term appreciation instead of focusing on the short-term setback.
You might have noticed that median sales prices have gone down by 5% comparing February 2019 to February 2018. Remember, we had an influx of inventory in the summer and fall, and these prices are representative of that change in the supply and demand balance. Looking forward, I don't see cause for concern as we are seeing a lot of buyers buying, days on market is decreasing, and we are seeing multiple offers coming back into the fold. I do expect prices to rise this year, but not at the pace we saw previously.
Taking the long-range view, prices may be down 5% since last year, but they are up 86% since 2009.
Then show the price growth year-by-year in a table.
Tell the truth. Provide the facts. And don't be afraid to share your expertise. If you are concerned about what is happening with supply and demand in your area, then share that too and always offer a private consultation to address their particular situation or area.