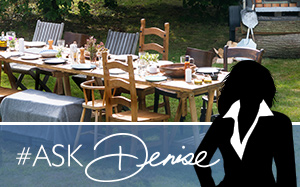 Q: "Denise, I am taking this time to schedule my client appreciation event which I was going to have this summer – a lovely garden party with big hats and tea. I know it sounds weird, but I have gotten a lot of my clients from my garden club, so it is really relevant. But my issue is that my clientele is not young and many are in the category of people who need to be extra-careful to not get this virus. I am not sure if I should proceed or not. What do you think?"
A: I think you should go ahead and plan this for late July or August, but before you sign on the dotted line with the venue, food service, and any rentals, verify the following:
 1. What happens should you need to cancel due to a government order to not gather?
Be specific about this. Some venues indicate that a specific government agency must do the cancelling such as the governor or the health department. You should also find out about numbers. If your government agency indicates that you should have no gatherings with more than 50 people and you have 40 people that were slated to come, will you still be able to reschedule with no financial impact? Do you have to reschedule in a specific time-frame? What happens if the stay home order expires the week before your event? What if it there is an advisory and not an order? Run through a few "what if" scenarios with the venue and get the details in writing.
2. What happens if you just aren't getting the expected numbers?
Let's say you planned this party for 100 people, but with two weeks before the event, you only have 20 people. What do you do? Sometimes venues will allow you to have a final confirmation date at which point you can change the participant expectations. But there may be financial implications (such as waiving a rental fee so long as a food and beverage minimum sales amount are met).
3. What if you have contracted with other food and entertainment providers?
Caterers, DJs, tent rentals, etc may all have different contracts, different deposit rules, and different cancellation clauses. I am not so concerned about cancelling when there is a government order to do so, but what if you contract with a vendor and you aren't getting those RSVPs? You may or may not be able to cancel with a full refund depending on the circumstances.
Most venues at this point will be happy with your business, understand your concerns, and will work with you. But agreements prevent disagreements, so make sure you really understand the implications of your agreement with your venue and event providers. But please do continue to book those events! Just do it strategically.