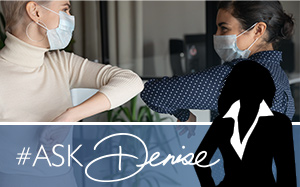 Q: "Denise, I made a decision! I am tired of being in limbo with COVID and wondering when things are going to get back to normal. I have decided to assume that nothing is going to go back to normal until the end of the year and if it does before then, I will be pleasantly surprised. I feel like a weight has been lifted from my shoulders, but do you think this is a smart or foolish thing to do?"
A: Having unresolved issues can be exhausting and that is what COVID has become. Not only is there fear of getting it, people are grieving the thousands of small tragedies that are occurring from missing out on visits from friends and family to having to be distanced from your clients. Kids are missing on school and sports, weddings and celebrations are being missed.
Along with all of this you have the unknown of "when is it going to get back to normal?" When we are in limbo, we can't reject or accept an outcome because the outcome hasn't happened yet. By providing yourself with an assumed outcome and then accepting that outcome, you are now empowered to let that energy go and focus on doing what you can to help your clients and connect. Therefore, for you, this is a smart move!
Everyone is wired a bit differently, so if you would rather not think that far ahead and only deal with the situation in front of you, then don't feel pressured to make a decision like this. You have to do what is right for you, your family, your business, and your mindset.