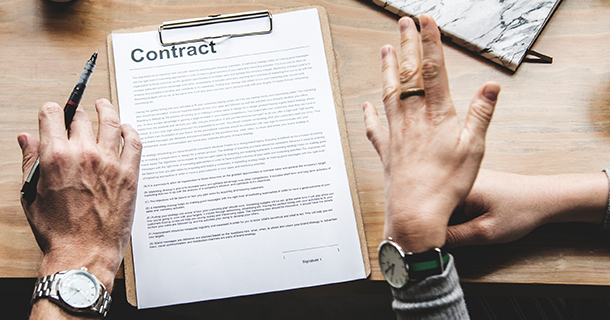 A big part of a real estate professional's job is to help the buyers and sellers navigate agreements, contracts, and miscellaneous contractual addendums. I have experienced more real estate professionals' personal contract-conflicts in the past six months than I have seen in the past 5 years.
Is it because of Covid? Is it that agents are trying to give professionals or associates the benefit of the doubt or just assume that everyone will work in everyone's best interest? Maybe it feels harsh to lay out exacting standards in black-and-white ink. Maybe agents assume that the other party just "knows" the routine, or that this job will be just like the last one. But if the current times have taught us anything, it that we can't take the status-quo for granted.
Too often, it is easy to neglect insuring that you have an agreement on all personal-professional relationships that you engage in. Whether that is working with a contractor to do a home repair or to shampoo your carpets, you had better put your agreement and expectations in writing in the event you find yourself in conflict at some point.
Most of us ask for a bid when we want a job done, but we don't ask for the professional's process and specific details of the scope of work. Or a timeline. If you find yourself entering into an agreement for anything, don't even think about moving forward until you put the details of what you expect to get and what you expect to pay in writing.
You need to get all the details: How much time do they expect it to take? What happens if it takes more time? Or less? When do they start? When will it be done? What hours will be worked in a given day? How many people will be on the job site? How will the job site be accessed? Will other sub-contracted parties be involved? What equipment/materials will they bring in? What do they expect to already be on-site? How will trash/used materials be disposed of? Exactly where is the work taking place? What is owed up front? When is final payment due? How will disputes be handled? How are changes handled? Are they insured? What if lightning strikes them on the job and blows a hole in the house? (Ok, that last one might seem a little silly, but accidents happen.)
Agreements prevent disagreements. Setting up written expectations will prevent you from finding yourself wondering what you got into. The last thing you want to do end up in any kind of formal contract conflict, as it will end up costing you money.
When I work with any business, professional company, or even my landscaper, I have a very clear list of expectations and their corresponding responses to my expectations. Emails do help to set up the working relationship, but ultimately it the agreement that one signs that will protect you if you ever need to enforce a contract that was not fulfilled correctly.
Any agreement I have to sign, I always ask myself, "What are the worst things that could happen? What do I not want to take place?" Then I write the agreement to match those expectations and concerns.

Our first Amplify workshop series this past August was a huge success – so this October we are going to do it again! Amplify is a series of four coaching workshops for brokers looking to tune-up their business and escape bad habits. We are taking a close look at your business and teaching solutions specifically for you. And even though it's all online, there is a physical workbook and materials we'll be sending you and accountability to help you make real change. Curious for more? Visit our registration page.
By Denise Lones CSP, M.I.R.M., CDEI – The founding partner of The Lones Group, Denise Lones, brings nearly three decades of experience in the real estate industry. With agent/broker coaching, expertise in branding, lead generation, strategic marketing, business analysis, new home project planning, product development, Denise is nationally recognized as the source for all things real estate. With a passion for improvement, Denise has helped thousands of real estate agents, brokers, and managers build their business to unprecedented levels of success, while helping them maintain balance and quality of life.