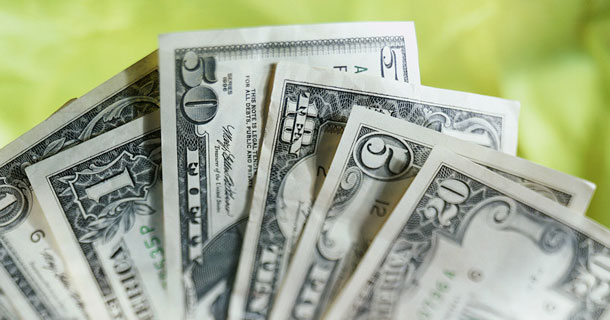 Real estate is unlike many professions in that clients feel comfortable – and often compelled! – to reach into our pockets for a slice of commission pie.
I don't think many of us would feel it's appropriate to ask any other service provider to reduce their fees.  Yet consumers regularly ask their real estate agent to offer them substantial discounts.
Each year when I begin working with my coaching groups, one of the things I review with them is their gross commission income and the number of transactions they have completed.  As we go through the numbers it becomes clear to me that many of these agents are not earning a commission percentage that seems to be the norm in their market.
They're earning much less.
When I point out to an agent how much more money they could have had in their pocket had they held firm on commission, there's usually a stunned silence … followed by, "Denise, I had no idea it was that much money."
Sometimes the amount is just a thousand dollars … and sometimes it's in the tens of thousands of dollars.
I'm not saying that there's never a time to adjust your commission.  There may in fact be valid reasons for doing so.  But far too many agents say "yes" because they don't know how to articulate their value and calmly but firmly say "no".
Did you know that the Consumer Federation of America advises consumers to always negotiate commissions with real estate brokers, claiming we operate as a price-fixing cartel?  Sellers should try to "knock one percentage point" off the standard commission right off the bat, the Consumer Federation of America advises, and "insist that if their broker double-dips, the commission be reduced another percentage point or two."
You really can't blame buyers and seller for asking us to reduce our commission.  Often, they don't have a clear sense of what we do … and that's our fault.  We're not proving our value to our clients.
There is plenty of data to back this up.  A Consumer Reports survey of thousands of readers who sold homes using a real estate agent from 2004 to 2007 found that among the 46 percent of sellers who attempted to negotiate lower commission rates, 71 percent succeeded.
That tells me an awful lot of you don't know how to articulate your value.
It's not just sellers who want to get into our pockets.  Where ten years ago it was unheard of, today more buyers are regularly asking for a portion of your commission to be rebated to them.
How can you change your mindset about commission, allowing you to keep more money in your pocket?
1. Do your research | be able to show what you do
I don't mean the research just on what is "standard" for commission in your market, although that's part of it.  I really want you to look at what your competition offers their clients.  For example, if you offer robust syndication of your listings, and your competition does not, it's pretty simple to point out the value of syndication to a client.
2. Think about how the consumer regards commission-cutting
Most people have negative feelings about car salesman – and I believe much of that has to do with a lack of respect around the process of fees and pricing.  It's maddening to wonder if you're paying more for a car than the person with the salesman two desks over.  That same car may sell for five different prices in the course of a week.  Is that the reputation you want to have as an agent, or do you want a reputation for fairness and integrity?  Should your clients be wondering if the seller two houses down got a better "deal" than they did?
3. Have some pride in your work
It doesn't require any skill to attract people to you if you base your relationships on price … and once you no longer offer the best price, you'll lose the relationship.  An agent who is proud of the work they do faces far fewer internal challenges when asked to reduce commission, and is far more likely to be able to articulate their value.
I believe your self-confidence and your esteem are damaged when you cut your commission.  When you cut fees, you have effectively sabotaged your business.  If you are willing to take less, others value you less … and you value yourself less as well.  Pretty soon you are feeling that you are only worth that reduced fee!  This mindset can't help but affect how you feel about your work, and how willing you are to protect your income.
Some agents feel their commission reductions are symptomatic of the current real estate market.  When the market is "hot" or "good", they feel it's ok to work for less.  Homes are selling quickly – sometimes in days, or even hours – so they link the amount of time to closing with the commission they should be paid.  Sellers didn't feel it was appropriate to pay 5% – 7% if a home received an offer within several hours … and agents, for the most, part agreed.  Here's the challenge: once commissions and fees begin to trend downward, it's darn near impossible to return them to a higher level (ask your friends in the travel or insurance businesses if you don't believe me).  The truth is no agent I know has a magic ball that allows them to forecast how easy or difficult a transaction will be.  Often the transactions that seem as though they will be easy actually end up being very challenging.
When then market is "cool" or "slow", agents feel the need to add additional inventory to their listing portfolios, in the hopes that something will sell.  And of course, agents are actively seeking motivated, qualified buyers.  Both of these scenarios set up situations where agents will rebate commission back to clients.
The other commission situation where agents are losing is the "repeat customer" commission rate.   If this is a legitimate part of your business plan, that's fine – but how many of you say "yes" to some repeat clients' commission requests and "no" to others?  Every transaction you're involved in requires work, knowledge, energy, expertise, and effort. Does your work become simpler, the more of it you do?  If you're asked to provide "volume discounts" for your real estate work, you're not expressing your value in each and every transaction.
I encourage you to be brave enough to look at your 2011 commission information.  How much commission did you give up to a buyer or seller who demanded your hard-earned money?  If it was a penny more than you are comfortable with, make 2012 the year that you learn how to say "no" to commission cuts.