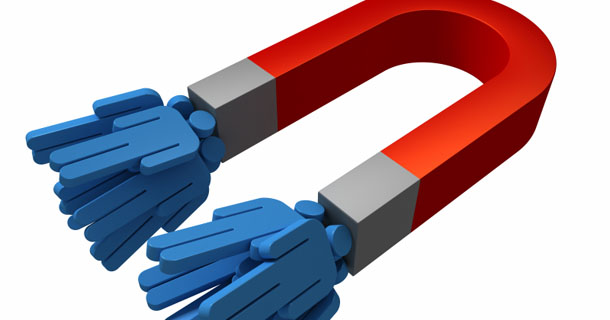 There's a lot of buzz in the industry about "attraction marketing" and how you can use that concept to generate leads for your business.
Sounds great, doesn't it?  No more chasing clients, no more frayed nerves as you wonder how you'll pay the mortgage this month.  No more worry.
Well, attraction marketing can be the answer … if you do it the right way.  And don't worry – I'm going to tell you how I think you can use attraction marketing in your business.
ATTRACTION MARKETING: A DEFINITION
What exactly do I mean by "attraction marketing"?  It's simple – I'm talking about building value and positioning the benefits of your product or business so that people come to you … rather than you chasing them all around town.
The three BIG lies of attraction marketing?
It's easy.  No, it's not.  It requires a plan, some tools, and some elbow grease on your part.
You'll have instant results.  Wrong again.  It takes time to build value.  (I'm going to talk more about this below, so keep reading.)
You can do it all online.  Yes, leveraging the internet can definitely help.  But you're not going to sell real estate without voice-to-voice and face-to-face interaction.
WHAT DOES ATTRACT CLIENTS?
I want to talk about a successful way to attract clients to you.  Let's ask first, what does attract potential clients?
Content.  Expertise.  Resources.  Your brand, and all that it implies.
And, ultimately, that all comes down to the perception of value.
So if we want to become the hunted, not the hunter, how do you make that happen?   Actually, the formula for that is pretty simple: to attract clients, you must lead with value.
Forget about your sales pitches.  Value is established by providing great content and expertise … and showcasing that with stunning, memorable visuals.  You have to brand yourself (and your business) in a way that connotes value to consumers.
Yes, it's that simple.
That starts with creating your "value proposition".  What is it?  A statement, or statements, that summarize what's special or unique about you.  Whether it's done overtly or covertly, it should also address why a consumer would be interested in your product or service, rather than that of your competitors.
If you can't think of your value proposition, you've got a big problem.  And you're probably also short on business right now.   Because if you haven't mentally positioned yourself ahead of the pack, it probably shows in everything you do (and I guarantee it's reflected in your bottom line!).  Your value proposition ties directly to your brand.
Take a look at my list below.  Do any of these statements fit how you're feeling?
I need money.
I need more time off.
I want my business to be easier.
I don't like "cold" prospecting (calls, door-knocking, email spam campaigns).
I have run out of friends and family to sell to.
I don't want to quit this business.
Attraction marketing can help with all these challenges!  When you harness the power of attraction marketing, and employ it in your lead generation, you end up with a phone that rings (or an inbox that's filled with emails from interested consumers rather than one stuffed with spam).
If we know that consumers are attracted to content, expertise, and resources – plus your brand, and all that it promises – then you need to figure out how to build value by providing these things.
I've been saying for year that agents have to stop sending recipe cards and heart health tips.  Just stop that please.  You are a real estate agent.  Present yourself as an expert by providing content related to real estate.
Offer education, share your expertise!  And don't be afraid to take a position.  If you think the recent mortgage settlement agreement is the best thing since sliced bread, write about it … and be sure to identify benefits that your clients can identify with.
If you want to employ attraction marketing, you need to have a brand.  I'm not just talking about a logo or a design that visually identifies your business … I'm talking about defining the experience that consumers have when they work with you.  If you don't know exactly what I mean, think about this:  Apple® is a brand.  There's a bit of a cult that's grown up around Apple® users.  When you buy an Apple® product – any Apple® product – you are expecting a certain kind of experience.  Apple® also has a visual brand (the apple with a "bite" missing).  When you see Apple's visual brand, you immediately think about the Apple® "experience".  That's exactly what you want.  Define your market, and the experience you want to deliver … then create visual imagery that promises, and supports, that experience.
HOW CAN YOU "DELIVER" ATTRACTION MARKETING?
The internet sure has changed how people purchase products and services.  Estimates vary, depending on product, that between 78% and 96% research online before buying.  Wow.  Think about those numbers!  Even if a potential client has been referred to you, you can be pretty sure that they are going to research you online.  If they don't like what they find, or if you look like every other agent online, there's no value to the client.
Do you think the use of the internet means you need a website that showcases your unique business brand?  You bet you do!  And it would be even better if that website offered a blog element, so you can showcase your expertise in real estate on a regular basis.  Blogs are easy to maintain, and offer loads of flexibility.  They're perfect for many business owners, including real estate agents, who want to offer great content, strut their expertise, and bring it all to life in a visual way.
Go online and search the term "attraction marketing".  You'll find an onslaught of information about "systems" to attract people to you, often by sending dozens of sales emails to someone.
Hmmm.   If you were on the receiving end of that, without first knowing something about the company, how would that feel to you?  Would it compel you to learn more about the company … or to hit the "spam" button?  A blog-based website is a far, far better answer.
Many of the so-called gurus of these attraction marketing systems will tell you that belly-to-belly marketing strategies just don't work anymore.  In fact, they're poised to sell you their attraction marketing system.
Do you think the use of the internet means you don't need to snail mail anymore?  Absolutely not!  You still need to reach out in this "old fashioned" way to potential clients.  Because so few people use high quality mailed pieces you will instantly stand out from the crowd, especially if you are mailing articles about real estate.  Remember – no more recipe cards, automotive repair tips, or articles about pet care.
I put together a list of seven "B"s – seven things that will help with your attraction marketing.
Be in love with your job
Become valuable (because then you become invaluable)
Become visual
Benefits are key – create them, then identify them so they're irresistible to potential clients
Brand yourself – both in terms of your client experience and with a visual look that showcases the client experience
Build relationships before expecting business
Be an expert – know your market inside and out, and share that knowledge
Every person you meet – online or offline – in the course of a day, a week, a month, or a year is a potential check you.  Can you chase them all?  No, but you can attract them all and, over time, continue to share your value with them until they need your services.
If you're going to have success in your business without working yourself to death, it has to begin with attraction marketing.  If you don't already have the tools in place to attract clients to you, make that a priority in your business today!