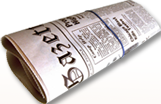 Mortgage rates for a 30 year mortgage hit a four-month high yesterday at 3.53% according to Bloomberg Businessweek. Just how high will mortgage rates creep this year according to the Mortgage Bankers Association? To read the full article, Click Here.
If you have buyers on the fence or wanting to wait out short inventories, this is a compelling reason to get them to move forward. For every percentage increase, their buying power decreases.  
To read more about how high mortgage rates will go, Click Here.