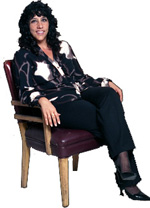 Q: Denise, why is that some agents seem to attract so much business while others have such a difficult time just making ends meet?
A: That is a wonderful question and one that requires us to look at the businesses of top producers to answer. The one thing that all of our industry's top producers have in common is the ability to attract people to their business. This attraction is their marketing machine; it is how they keep their pipeline full. To attract business you either have to have a compelling draw or provide compelling client care. A compelling draw means that you have a way of engaging with people and letting them know that you are open for business. It is that charisma that says you are good at what you do.
It may be anything from the way you look potential clients in the eye to the materials you send them. The bottom line is that you need to promote yourself on a continual basis. This could be anything from monthly follow up mailers to regular telephone communication (which is where compelling client care comes in). The key to a top producer's success comes in making connections, and continuing to connect beyond that first connection.
If your business is not where you want it to be, then increase your connections. Identify opportunities to get out of your office and be with people. Call your database and let them know you just put some real estate market information in the mail for them. Communicate with everyone in your pipeline. Send them information on the market they're interested in moving into or out of – and give them a call letting them know to expect it. Focusing on making and strengthening connections every day can have a monumental impact on your business.