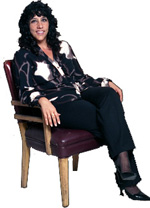 Q: Denise, I have been approached by my city's tourism bureau to advertise in their publication. I can get a quarter page ad for $300. Is this a good deal?
A: I love questions like this!
I have not seen one-shot advertising like this to be very effective. However, when combined with an advertising campaign, it can be VERY effective!
Here's what I mean: Imagine you said yes to this publication, put down your $300, and probably another $150 to have an ad made. You are now out $450. But do you know where your ad will be placed in the publication? Is your ad going to be buried somewhere in the middle or towards the end? And are there are seven other agents advertising in the same publication – perhaps some with half or full page ads? If so, then your $450 ad is going to get lost in the shuffle.   
However, if you run that same quarter page ad, and can combine it with an article you provide to the tourism bureau about the real estate market, then this can be very powerful. You may even be able to submit a quarterly market update for the packet of information they distribute.
Then think about your call to action. I have seen very effective advertising which provides a QR code and allows the reader to download a market report or perhaps a housing review of all the different neighborhoods in your area – perfect for someone thinking of relocating or buying a second home who doesn't necessarily have the time to do a full tour.
So don't be tempted to say "yes" without really thinking through what your entire campaign would look like AND making sure you have the resources to implement it.
And if you ARE thinking this upcoming summer would be a great time to get out there in a big way and take advantage of tourism traffic, give us a call! We have lots of ideas on how to craft a campaign that will get your phone ringing!