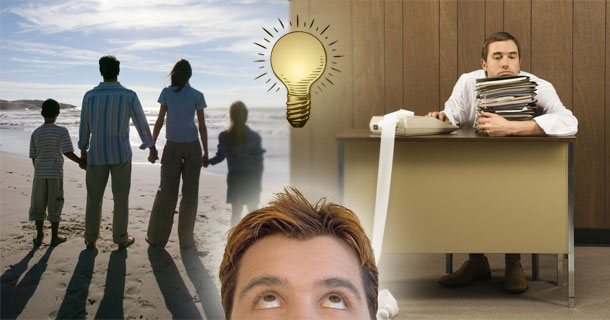 We all have those moments in life when something hits us when we least expect it and rocks our previous beliefs and changes our actions. I call them "AHA" moments. I have had my share of them, as I am sure most of you have had yours. The two most powerful moments I had as a real estate professional were bittersweet. Let me share these with you today…
Early in my career I had set a goal of being the number one agent in my market area. I was young and motivated and I was a go-getter, bound and determined to sell 100 houses that year. Don't ask me why I had the number 100 as my goal, but that was the number I was focused on. And if you are thinking "Is she insane – 100 houses?" you would be justified in questioning my goal.
While I was not insane, I didn't take the time to think about what that goal really meant before I made it. That goal meant I was doing nothing – nothing! – but eating, sleeping (barely sleeping) and breathing real estate. No fun. No family time. Zip. Zilch. Nada.
But I persisted. I pursued that goal. Do you know that in order to sell 100 houses in a year you have to close one every 3.65 days? Did I mention I was also a fairly new mom at the time?
My first "AHA!" moment came on Christmas Eve. I was a strong listing agent, so I had many listings that were getting a lot of showing activity and it came as no big surprise when I had three agents contact me to inform me that they had offers to present on my listings. Because I was eager to get these homes sold, and because I was overly focused on my goal, I met with the agents and the sellers and worked to get the offers accepted. There was just one major thing I was neglecting in my pursuit and that was my family. It was Christmas Eve for goodness sake and here I was selling real estate and neglecting to be home with my family. Christmas Eve had always been a very special time for our family to get together, but I missed it because I was too busy thinking that I needed to negotiate these offers that day. In actuality, those offers could have waited, but I was not strong enough to articulate that to the agents or the sellers.
By the time I arrived home – late –  my family was not impressed! One of my family members pulled me aside and said "What are you doing? You can't just miss Christmas Eve. This is an important event. What business is so important that it couldn't wait until after Christmas?"
My brain immediately thought, "I am helping my clients buy and sell houses! I can't let them down!" But even as these words were forming in my mouth, I realized that my clients would probably have been fine writing the contract on December 26th. I was the one pushing for the contract to be negotiated. I was the one who made myself available.
I took a good hard look at my life and my business that Christmas Eve and I and made an oath to myself and my family that real estate would never again come before our special family events. And I am proud to say that twenty years later I have kept that promise. My family was going to be number one on my priority list. My goals for the following year were much different than my goals for that year –  realistic goals, coupled with a realistic schedule.
The second "AHA" moment came at tax time the following year when my accountant informed me I could have sold 27 fewer homes that previous year and netted the same amount.
"What?!" I said incredulously, "How is that possible?"
He explained that because I had sold so many homes that my income was high enough to put me in a higher tax bracket, which caused the tax I had to pay go through the roof, eliminating ALL my income for those last 27 houses. I could have taken 13 weeks off that year and still made the same amount of money.
The bottom line was that I was just out there selling homes with no real idea of how it would impact the rest of my life or my financial picture. This "AHA" moment taught me how powerful planning and money management is. From that moment on, I watched my income and expenses and I knew when enough was enough and I needed to slow down. This also gave me a good reason to slow down. I worked hard to reach my goals, but I learned how to take time off, enjoy life, and take care of myself. I learned that balance coupled with knowledge was like having a super power.
Think about your own life and your own "AHA" moments… What has it taken in your life to get your attention and make you sit up and take notice? Where are your priorities and are you honoring them? You matter, your family matters, and at the end of your career I don't think you will look back and regret not negotiating three offers on Christmas Eve, but I know you will regret missing special occasions and family time.
Analyze your "AHA" moments and appreciate them for the gifts that they have given you!
If you are looking at your business and life right now thinking you need an "AHA!" moment, I invite you to come to my two day Safari event: You-Nique Technique: Five Steps to Thrive coming up on July 24th and 25th.
Are you going to need to take two days off work to attend? YES!
Are you going to need to travel to get there? PERHAPS!
But it will also be one of the best things you will do for your business this year… HANDS DOWN!!!
Seats are filling up fast, and I encourage you to secure yours today with your FREE registration at: www.thelonesgroup.com/safari.asp