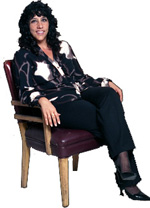 Q:  Denise, I believe agent education is very important and I have made an effort in my career to achieve a series of designations, which are featured on my business card. But recently I had a client ask me in kind of a snarky way why I had all these letters under my name. Should I keep my designations or do clients just see alphabet soup?
A:  Great question! Actually this question does come up often because these are decisions that are made during the brand development process. The bottom line is when designations are abbreviated on something like a business card, the general public does not know what these abbreviations mean. On an agent to agent level, that is a different story, so you have to think about who your target audience is for each marketing piece you create.
For example, for a piece like a business card, I would definitely do a two–sided card in your case and instead of just listing the designations, I would try to have the logos for the key designations on the back that are most important. If you specialize in seniors, having the SRES logo on the back would be a must. If you sell commercial real estate, make sure you include your CCIM logo. If you work with international clients, make sure your CIPS information is at the forefront.
Then I would have a phrase underneath those logos that says something like, "Education helps me provide the best in client care. Find out more at www.mywebsite.com." Then have a page on your website that outlines the different designations you have (with logos) and make sure you indicate why each is a benefit to the client. Remember WIIFM (what's in it for me – this is not another designation) and include statements like, "By obtaining my SRES designation, I am ensuring that I not only meet the needs of my "golden" clients, but provide the utmost in client care and resources that are only available to SRES designees."
What a great question and I am so happy to hear from an agent who values education so much, as it is a passion of mine as well.