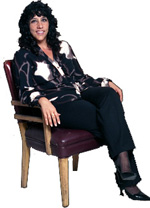 Q:  Denise, I have been thinking about having your company create some listing presentation boards that you have written about. I love this idea, as it will surprise and wow homeowners. However, I sell a wide range of homes – some are small and modestly-priced while others are large waterfront estates. I have different marketing plans for these types of properties. What do you recommend?
A:  Great question! Many agents have a different marketing plan for different types of houses. Therefore, I recommend that you have two sets or you have a standard set that you show every seller, but then you show your luxury marketing program for those homeowners who have a higher end property. While you may have items such as:
House flyer
Just listed card
Special feature card
Internet listing syndication
And standard database marketing
for your standard seller, you may have other items for luxury marketing that may include:
Listing on luxury home sites
Video
Four or eight page brochure
Jumbo just listed card
Or a niche marketing mailer.
Listing presentation boards are a fantastic prop that really gets the seller's attention!
---
To read more about listing presentation boards, please click the links below:
https://www.realestatezebrablog.com/2011/03/24/polish-your-presentations/
https://www.realestatezebrablog.com/2011/03/31/powerful-pricing-tools/
https://www.realestatezebrablog.com/2011/04/07/powerful-client-communication-tools/
https://www.realestatezebrablog.com/2011/04/14/powerful-technology-tools/
https://www.realestatezebrablog.com/2011/04/21/powerful-print-marketing-tools/
https://www.realestatezebrablog.com/2011/04/28/powerful-home-presentation-tools/
---