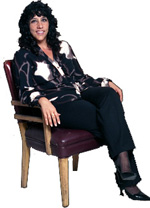 Q:  Denise, it has been a little over ten years since I had my headshot photo done. I really really love that photo, but a few agents have strongly "suggested" that I get a new photo. I guess I do look a little different… but I really love my old photo!
A:  Many agents – and people in general – feel the same way as you do. However, time marches on and when our photo no longer matches how we show up, there can be a disconnect with our potential clients. If you have people who care about  you suggest that you get a new photo, then it is time.
We all get older. It is a fact of life. Although your photographer may touch up the photo a bit, don't ask for all your wrinkles to be removed and be airbrushed smooth. We either have or will have wrinkles and gray hair – let's not forget that these are marks of experience. Own them!
Also, think about what you love about your old photo … was it the outfit you were wearing? The way you did your hair? The angle you are sitting at? Was it outdoors or indoors? If so, try to recreate those same things that you love, but with an update – your new haircut, your new favorite outfit and jewelry, and the real, current you. You might even want to show your old photo to your photographer so he or she can suggest some poses or lighting that can help achieve the same effect. Just think, you might just love your new photo too!