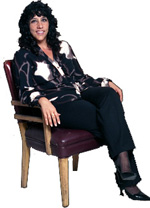 Q: "Denise, I just helped some buyers buy a home in a neighborhood that is next to the neighborhood I have been farming for years. I helped my buyers write a strong offer that prevailed in a multiple offer situation. I want to send out a Just Sold notice to this neighborhood to let people know that this was a high-demand sale, but since this neighborhood is the territory of the listing agent, I feel like I am stepping on her toes a bit and I don't want to damage the relationship. What should I do?"
A: I like that you are honoring your professional relationship, so what if you sent out your mailing with a slightly different message? With the permission of your buyers, what if you sent a postcard to the neighborhood, encouraging the neighbors to welcome the new homeowners? On the back, you can list some of the quick stats about the sale – list price, sold price, days on market, etc, indicate this was a multiple offer situation and that you helped the buyers write a strong offer that prevailed in this highly-competitive market?
This way, you aren't sending a message having to do with the listing side – that can be the terrain of the listing agent – but you are focusing on what you did for the buyers.
Of course, all content you include should be allowed by your MLS and with permission, but that is one way to show respect and be truthful in your involvement with the sale while allowing the listing agent to send a separate mailing discussing her marketing strategy.