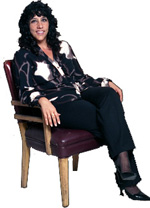 Q: "Denise, I just found out I won a production award from my company (my first time). I want to announce this to my database but I don't want to toot my own horn. What do you recommend?"
A: First of all, congratulations! I know how hard you have worked to achieve this level. The way I handle any sort of award like this is by applying the WIIFM principle – What's In It For Me? – or in this case, the client? Why should the client care that you have won this award?I have several arguments:
The more transactions you do, the more experience you get which makes you better-able to proactively solve problems before they become problems.
The more transactions you do, the more industry professionals you meet which makes you better-able to connect with someone who may have a solution to a problem that arises in a transaction.
The more transactions you do, the more agents you meet and the greater your reputation as someone who can get the job done spreads, helping your future clients.
Now, there are also a few reasons to be wary of sharing this award:
Past clients may think you are too busy for them or their referrals
If the award is revenue-based, they may question your worth (I know how hard you work and your worth, but your clients may pause)
Therefore, my preference is to put awards like this and apply the WIIFM principle for new clients. Put it on your website, in your buyer or seller package, or in your listing presentation. But I would probably not splash it all over Facebook or include a big write up in your past client communication if this is a production award. Other awards such as client care awards or scoring the highest in overall client satisfaction is a different type of award and you can take a "thank you" approach to your clients.