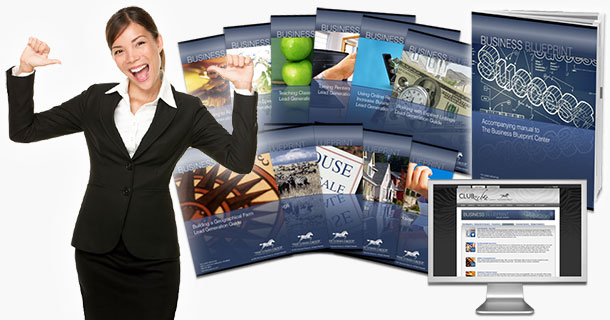 Today's potential clients are tomorrow's commission dollars. If you don't have a system to stay top-of-mind with them who knows who they might actually wind up buying or selling their next home with?
What if you had a system that didn't just keep track of who told you they were interested in buying or selling in the next year, but which also helped ensure they got great information relevant to their next transaction? How many more clients do you think you could convert? One? Five? Ten or more?
As an agent, I was great at taking care of the business in front of me – my current clients. In fact, they got almost 100% of my business energy. Then I carved out just a little more for my past clients. But when I carved out just a little bit of time for my potential clients each week – WOW! – that was when I saw my business skyrocket and found that I could reliably count on the figures I had in my pipeline.
I built Business Blueprint Center – Your Real Estate Business, Perfected using this same formula – and it includes concepts from my highly-successful real estate business, brokerage management, coaching programs and classes. I included my best agent tools, created a new series of videos (hours of video chock-full of great ideas), and built a new easy-to-follow manual and online classroom. Now I am sharing it with you!
Business Blueprint Center – Your Real Estate Business, Perfected Includes:
Business Blueprint Center manual
Access to the Business Blueprint Center online classroom, complete with resources and videos
Personality Analysis and results
Business Analysis and personal consultation call
Private Defining Your Blueprint call with our Business Blueprint specialist
12 months of Club Zebra PRO
Eleven lead generation guides
Master Follow-Up Plan via Club Zebra
Potential Income Tracker via Club Zebra
Accountability Tracker via Club Zebra
Articles for your database and blog content via Club Zebra
Live, monthly group Club Zebra calls with Denise Lones
If you convert just one person on your potential client list using my Business Blueprint, you will have paid for it. But it is my hope that you receive thousands more in commissions for the rest of your business lifetime!
If you bought what's in the Business Blueprint Center individually, it would cost over $1,000. Usually we retail this package at $497. For a limited time you can get this complete package for only $297.