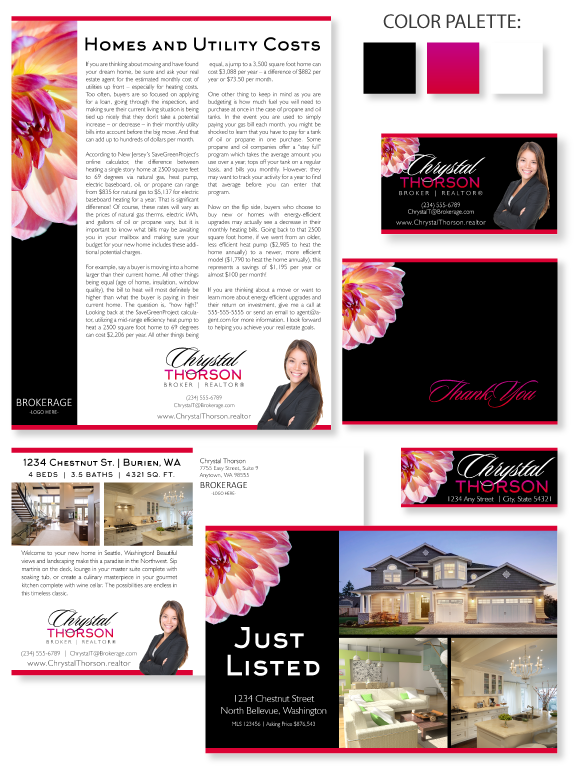 This week's design spotlight features our Semi-Custom Pro branding design template #130. If you love the dramatic effect of a black background, but want to keep the readability of a white page, this design is perfect for you. Bold yet Understated, this template takes advantage of photography techniques that place a single object on a black backdrop. Confined in a sleek sidebar on newsletters and letterhead, the full drama and luxury of the dark background is perfect for business cards, note cards, and postcards.  If flowers aren't for you, we can find something that is! Other popular photo subjects include keys, antiques, sports equipment, animals, food preparation, bokeh textures, and more!
Very thin top and bottom borders bring the color from the photo through the rest of the design, especially on pieces like the postcard back where the flower won't easily fit. This example pairs a sassy small-caps font for the headlines and elegant calligraphy for the first name and Thank You card. As with all our Semi-Custom Pro brands, the final font selection and color palette will be customized to your tastes.
With the purchase of this or any other Semi-Custom PRO brand, we will find the perfect branding graphic, create a name treatment, apply your portrait and brokerage logo, and customize the contact information. As a final product, we will create and deliver up to 19 templates and tools to help you maximize the potential of your business.
Interested in branding your business? Customize this Semi-Custom Pro brand for $299 per month! Call us at (360) 527-8904, email [email protected], or learn more:

---