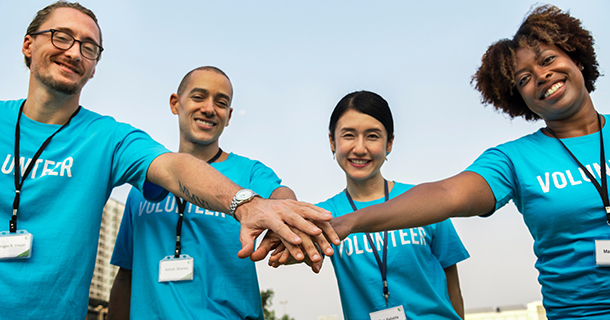 Real estate agents are reminded everyday of how important it is to give back. When an agent gives up their time, talent, and expertise, they have the ability to change people's lives or to reduce stress during what is often a very difficult transitional time – because when people are buying and selling real estate, it affects their lives, their families, and their overall well-being.
I want to remind you how powerful giving back can be. Think about what you have to offer the world in terms of your time or talent. Think about all the volunteers who step in when there are disasters. Think about volunteers who give up their time daily, weekly, monthly. Think of what YOU can do to make a difference in your own community.
At the core of giving back is a deep-rooted desire to make the lives of others better. Those who give back also act as role models to others who want to help but just don't know how to get started.
Over the years I have been inspired by many of my clients who have given of their time, talent, and money to help others. One person's vision and ability to step up and begin a "giving back" campaign can lead others to do the same. People can have an enormous impact on the lives of others when they simply apply their ideas, hard work, and talent. This helps to cultivate a spirit of contribution to your community.
I have always said that some of the most inspiring moments in my life have come from the volunteer work I have done. I remember a time I was volunteering at a women's shelter. A mother introduced me to her child. The child looked at me and said, "Thank you for helping my mom get a job. We were able to go to Disneyland and were able to take our cousin with us." What touched me so much was to see the joy on this child's face. To know that my actions to help this woman get employed had such a positive overall impact on her life and her child's life. How proud she must have been to be able to buy those airline tickets and how incredible that one of the first things she did with her paycheck was to give back to another child. That is what really touched me; that is the circle of giving back.
A number of my clients do some pretty amazing things in our community, and they inspire me every day. Today I would like to spotlight one of them. Jay Agoado is one of the hardest working real estate professionals I have ever met. He is known in the industry for his high level of client care and his attention to detail. Everything he does, he does well and with intention. So how does someone with such a full life find the time to give back? Jay knows how to prioritize and he knows what's important. Since 1994, Jay had been donating to Seattle Children's Hospital on a per transaction basis. In 2017, he decided that he wanted his giving to be more meaningful and impactful so he founded Project Kids' Cancer Cure Guild to support the Seattle Children's Oncology Group. By creating this guild, he is now able to directly and indirectly donate substantially more money to Seattle Children's Oncology Group. The funds help cover the cost of studies for all types of cancer – so children everywhere can benefit from the best therapies available.
---
I urge each of my readers to go to the following site, join in, get involved and be inspired: https://www.pkccseattle.org/
---
There are many ways you can help. If you don't have time to be involved, use your money to make a difference. If you don't have money, use your time and talent. Perhaps you'll be inspired to make a difference in your community!