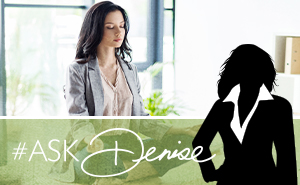 Q: "Denise, as I look back on 2018, my common theme was too much yes…not enough me. Meaning, I said yes to way too many people – buyers wanting to see homes out of the area and out of their price range, sellers with high price expectations, and even my kids expecting I could take them across town at a moment's notice. I don't even know how I got here but I am miserable. Like thinking about getting a 9-5 job miserable. How do I dig myself out of this hole or should I polish up my resume?"
A: Put the resume away for now. Instead, I want you to make a list of the top ten things that eat up your time when it comes to other people. Then you are going to create rules for those issues.
Here are some examples:
If you are touring buyers who have a very large diameter, what is your rule for how far out you will go? Define your area.
If you are dealing with unrealistic sellers, what is your rule for how far above market value you will price a property and then what is your rule for price reductions?
If your kids are demanding it is because they know they can get you to leave work. Therefore, establish rules for your work hours and when you will answer their non-emergency calls and texts.
Beginning to make rules will really help you regain control over your life!