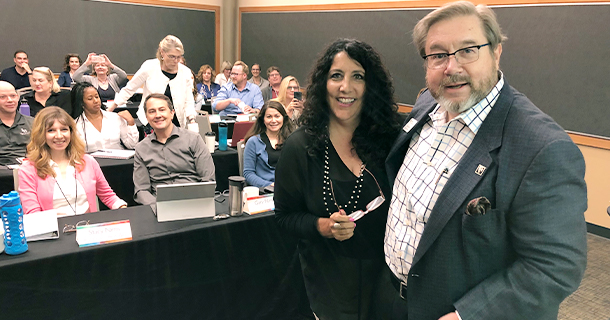 I am not one to actively search for speakers about government policy as quite frankly I think they can be a little dry and often too focused on what is in their best interest politically.  So, when I first heard about some innovative things that the Washington State King County Assessor's office was doing, I was intrigued.  While furthering my research I learned that the Assessor, John Wilson, was leading a number of initiatives including one to further help seniors be able to stay in their homes by expanding senior tax relief.
It wasn't just that the program existed that intrigued me. It was how passionate John Wilson was about expanding the program by increasing income limits, and having an innate understanding about how rapidly increasing property values are affecting taxpayers.
It is not unusual in King County to have someone who bought their home in the 70s for $40,000 be faced with a $1 million assessment and have to pay $10,000 in property taxes which is tough when that might represent half of a senior's income. They don't want to move out of their neighborhood they have lived in for over 40 years, have to get new doctors, new friends, new neighbors, and learn a new community. That is not in their best interest and John is working diligently to develop a fair approach that benefits all. Affordable housing is another issue he is innately aware of as is the challenge with market value on a property increasing over six figures in a bidding war.
John also addresses the challenges we face as a region when we rely on paying for our general services, i.e. education, through a system of levies which voters need to approve. We want to continue to have a strong regional appeal and that means investing in our infrastructure – a levy isn't always the best way to tackle this.
What is so impressive to me is that we have someone who is charged with assessing over 700,000 properties working so proactively for vulnerable individuals. John could simply do his job, but instead he goes to work figuring out how things can work more efficiently, more transparently, and more fairly while addressing the challenges we face as a growing region.  He makes no apologies for his honest assessment about the challenges his office and County face both now and in the future.  He is a refreshing, straightforward, and powerful leader.
John is also actively involved nationally with other assessor offices and he is passionate about keeping on the forefront of innovation. His office is also creating leading-edge technology tools to make the assessment process less cumbersome and more transparent.
What I have learned from John is that everyone has a voice and as an industry, we need to get involved.  Know what your assessor's office is doing, understand what you are voting for, and the impact of these various levies when you vote.  As real estate professionals you have so much end user communication that it will benefit you more when you have a greater understanding of what your homeowner clients may be dealing with.
No one person can change a property tax system overnight, but I can emphatically say that the work our King County Assessor and his department are doing is nothing short of innovative, fair, progressive and sensitive for not only our valued seniors, but each and every homeowner.
Thank you, John. You are doing amazing things!