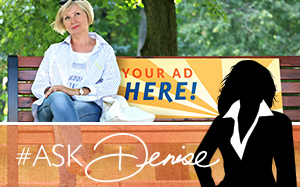 Q: "Denise, I have an opportunity to do an ad on a bench in a local golf course. Is this a good advertising opportunity?"
A: It depends! When doing any sort of advertising whether it be an ad in a local magazine, an event sponsorship, or even an ad on a bench in a golf course, in order for that ad or presence to have high impact, it needs to have layers.
Here are some ways your bench ad can have additional layers:
If you already have a presence in that community, are doing mailers to homeowners, hold open houses, etc, then your layers are already in place – advertise away!
If you are an active golfer on that course and are well-known, consider getting an active golf photo of you on the course and tie in real estate with your message. Maybe something not so cheesy as "On par with your real estate goals" but you get the idea.
Does the community put out a newsletter or an enewsletter? Can you create content for that or do an ad that includes market stats on a regular basis?
Sponsoring an event or a hole (preferably the one your bench is on) during a tournament (and passing out water and lemonade) will have participants remembering you when they come across your ad in the future.
Video and social media are other fantastic ways to develop memory layers. Imagine you now have this bench and you are working with buyers and sellers in the local area. You can do a few videos talking about local real estate on the bench or start on the bench and then walk around. You can share that video on social media and promote it in that local community. Great layering!