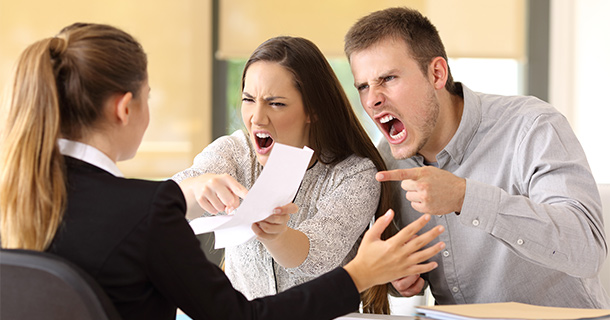 It's a beautiful day in your real estate world when you receive a call from your Seller who is absolutely freaking out about an incident that happened at their home.  You can tell the Seller is very upset, so you listen intently as the Seller explains that the landscaper you referred cut through their in-ground sprinkler system.  There was water everywhere, the whole system is down, and the landscaper said he is not responsible because the sprinkler line was put too high to the ground. She is furious and wants you to handle it to get it corrected as soon as possible.
So, what do you do? Do you race over there to handle it or do you tell her that that is not your responsibility?
Here's the real problem: If you rush over to handle it, you need to know what you are doing. If you tell her it is not your responsibility you could lose the listing or lose a client.
Whenever you are working with a client and refer them to a vendor, they expect that person you referred them to will do a good job. If they don't do a good job, do damage, and won't fix the problem, it will reflect on you.  If the seller calls on you to help fix it (and they probably will) you better know your boundaries and have solutions to fix the problems that come up…because vendor relationships have trouble from time to time.
The one thing I used to tell all vendors that I referred was that I expected them to do a great job and if there was ever an issue that I expected it to be handled professionally.
I have had several calls just like our example over the years. I remember an incident where my Seller contacted me very upset about the condition her home was left in after she had just paid to have it cleaned.  I had referred my house cleaning team to her and was shocked to hear they didn't do a good job. When my Seller contacted the company and complained they told her that they had done a great job and that they were not going to refund her any money.  I was horrified to hear this and indicated that I would contact the cleaning company.
Well of course there are always two sides to every story. The company shared that my Seller had demanded that they wash all the windows and was very upset when they wouldn't. In fact, it wasn't the house cleaning she was upset with; it was that the windows were still dirty.
I contacted the Seller and asked her if I could come over. I first allowed her to vent, but then shared that I had contacted the company and unfortunately windows was outside their scope of work due to a number of reasons. Even though she was still upset and her windows were still dirty, she appreciated hearing that I had worked on her behalf. She admitted that perhaps she had overreacted a bit.  By the time I left she felt better and appreciated me for stepping in.
In the situation where the referred vendor damaged the sprinkler line it gets more complicated.  Whenever any home repair/improvement person damages anything on a Seller's property there is liability.   Most reputable companies handle any mistakes and damage they might cause but when you are the person who has referred that company the Seller may run to you for help if the company doesn't step up and do the right thing.
While you are in no way responsible for the actions or mistakes of any vendor you may refer, your Seller still may come to you for help.  On many occasions I have found myself placing a phone call to a vendor I have referred on behalf of my Seller.  Sometimes that is all it took, a quick phone call to remind the vendor that I had trusted them to do a good job for my client and expected them to step up and do the right thing.  Often it was my relationship with that vendor that encouraged them to take better action.
There were a few times when the vendor didn't care that I referred the client, they dug their heels in and refused to do a darn thing.  One time I had referred a painter to my Sellers to paint their garage who wound up leaving paint marks all over the surrounding concrete areas.  The Seller was very upset, and the handyman refused to do anything about it.  In that situation I wrote a letter to the handyman and sent a copy to my Seller informing the handyman that I would no longer do business with him or refer business to him because of the poor quality job he did and his failure to clean up the mess he had left at my Seller's home.  While the action of the letter did not get rid of the paint marks, it did do wonders in showing the Seller that I agreed with and supported them.  I paid another vendor to clean up the paint marks and that client was over-the-moon impressed with what I had done for them.
You are not responsible for the mistakes of any vendor, but you are responsible to listen to your clients vent when they are disappointed with who you referred them to.  Listening and understanding their frustrations and trying to get through to your vendor is the least you can do to help your seller.