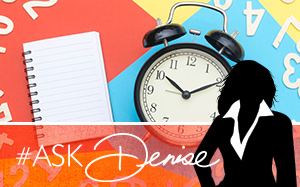 Q: "Denise, I am sure you have heard this a million times. I have a marketing plan in place. I plan on mailing to my database each month like you said. I am doing open houses like you said. And I plan on marketing to expired listings like you told me. But the only thing that I am doing are open houses. I can't seem to fit the other things into my schedule! How do I make it all happen?"
A: First of all, there is a clue here. You are actually doing the open houses. Why? Because it is an event. You have committed to it – whether you are committing to another agent to hold the home open or your sellers, you are actually getting this completed because you have that commitment.
But you aren't getting your communication out to your database nor are you getting your communication out to the expired listings in your area. Why? You aren't committing to getting this done to the same intensity as your open houses because the only one relying on you is you. That commitment is key – bottom line. You have to schedule yourself time to get it done. If the issue is that you haven't taken the time to learn how to use your materials, then you need to schedule a morning – yes, a full morning – to gluing yourself into your seat and learning how to get it done. So many agents expect they are going to be able to throw five minutes to a task and it will be done and if it isn't, they throw in the towel and try again next month. That is NOT going to get you the results you need. You have to get the darn glue and make the time or you will never be able to get your business where you want it to be.