Do you gravitate towards patterns, textures, and a color palette full of all your favorite hues? If so, you may have an Artistic style. Whether you go all-out with an unusual color, or double-down on a rich texture, or temper your artistic side with another design style, Artistic styles have one thing in common: creative spark!
Artistic styles tend to stand out, driven by aesthetics and drawn to creative layouts and applications. They tend to think outside box, both personally and professionally. Here are just three examples of artistic designs:
Teresa Nielsen, matriarch of Nielsen and Daughters, applies her artistic style literally with watercolor textures. The vibrant colors contrast with the black-and-white family photography, emphasizing her love for family.
Sinead Keogh filled her header and sidebar with an intricate Celtic knot pattern on a golden parchment texture, which matched the energy of the Tree of Life in her logo.
Jayna Pascua embraces luxurious gold foil and elegant coral-toned marble textures. Her rough brush font creates balance and softness, which matches her personality and business style.
If Artistic isn't your personal style, there are seven other styles that we will explore: Bold, Classic, Dramatic, Eclectic, Elegant, Natural, and Understated. Your design style may be one of these or a combo of two. Stay tuned for more info about the other design styles, or take our free Design Style Analysis to find out your personal design style.
To talk to a branding expert and discover how branding can make a difference in your real estate business, call us at (360) 527-8904, email [email protected].
---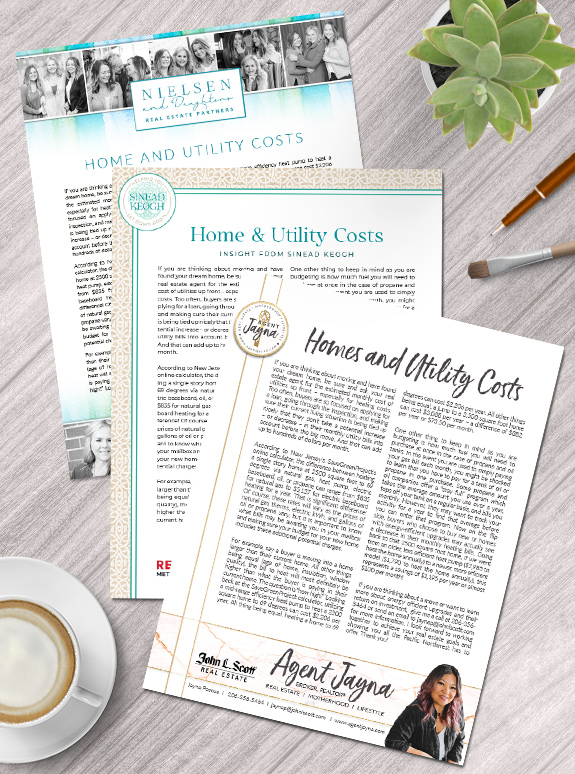 Curious about how your personal style can be represented in a professional brand? Book a branding consultation today!

---