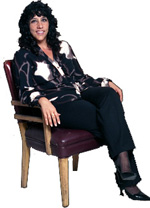 Q:  Denise, I may have a potential lifestyle client on my hands: Winter here drives them crazy and they are determined to find a house in Arizona. They want my help, but I don't know anything about Arizona! I need to refer them to someone, but I don't know anyone there and don't want to give a bad referral. How would you suggest I find a really great agent out of state?
A:  At some point, you may indeed determine that your clients are looking for something that is geographically outside your area of specialty and that might mean referring them to another agent. Finding the right agent can be tricky and you owe it to your clients to do a bit of footwork for them.
First, check with your company directory in the areas they are looking in and determine if you indeed know anyone. You may also want to check with agents in your office and your managing broker to see if they have any recommendations.
If no recommendations come through and you don't know anyone I recommend calling the managing broker of your company's sister office in the areas your clients are considering and talking with him or her about your clients' needs and asking for recommendations for three agents. Get their names and do you own due diligence first.
First check the agents out online. Check their website. Check websites such as Zillow, Yelp, LinkedIn, REALTOR.com, etc. If they take their business seriously they will have these sites updated. Check their reviews as well.
Then give them a call and prequalify them first. Talk to them and get a sense of how busy they are and how they work. Discuss your clients' needs with the agent and listen to what they have to say. Ask the agent to send you information on the area, on the market, etc. By doing this, you have put them through job interview of sorts:
You have checked their credentials
You have interviewed them
You have asked them to do some homework
Make sure you follow up with them, thank them for their time, and be clear on the next steps
An agent who is not willing to do homework for you would not be someone I would be recommending my clients work with.
So don't just send out a blind referral – be an advocate for you clients. Prequalify first!