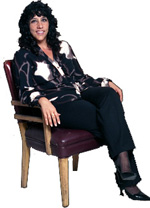 Q:  Denise, I have been thinking about hiring a housecleaner for years, but I know that I am just going to clean up before they get there because I don't want anyone thinking I live in a pig sty. Why should I pay someone to clean when I am just going to do it first?
A:  This is where you need to set some rules for yourself around cleaning. Remember, the house cleaners have probably seen worse than your home and they are there to help – not to judge.
Some rules you might have for yourself are:
Tidy up so the house cleaner doesn't have to figure out where things go, but that does not mean dust or do all your filing. Piles are okay.
You can do the dishes, but don't scrub the counters, appliances, etc.
You can keep the bathroom neat, but don't give it a deep clean.
Don't make the bed if the sheets are going to be washed.
Then you can also make a list of the items you would like a deep clean on every few months. This can include washing the windows, cleaning the baseboards, cleaning out the fireplace, wiping out the insides of drawers and cabinets, etc.
Remember, you can't do it all, so don't judge yourself on being able to. Let others shine at what they are good at and you will reap the reward of extra time!