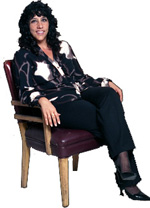 Q:  Denise, I am looking ahead towards fall and I want to have a client event this year. However, I have a diverse group of past clients. I can see an oil and water situation happening if I try to have one big event. What do you think about two different events?
A:  You can certainly do that if you like. In fact, I have many clients who have multiple smaller events every year and love it (their clients do too!). The key is to find something that works for you and your clients.
If the thought of booking two venues, sending out two sets of invitations, and making sure you remember what client was invited to what event in case you run into them at the grocery store is enough to stress you out to the point of not doing an event at all, then consider doing just one event. You can find common ground for all your clients somewhere, whether that be booking a movie theater for a screening of It's a Wonderful Life at Christmas (family-friendly and it appeals to all age groups) or Thanksgiving pumpkin pie pickup (even if a client doesn't enjoy pumpkin pie, they can always bring it to Thanksgiving dinner wherever they are having it). The point is to just find an opportunity to have an event that gives you the opportunity to get in front of your clients live and thank them for your business.
Have a great idea for a client event? Please share it in the comments below!