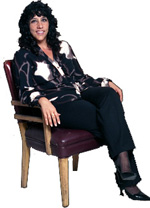 Q:  Denise, I understand you encourage people to have a "word" or an overarching theme for 2016. Can you tell me more about that?
A:  Having a word for your year is similar to having a short-term mission statement. The word needs to be easy to remember and utilize when making decisions about your business.
For example, I was just talking with one of my clients today about her word. She is looking to grow with a team in 2016. However, I know that with this particular agent, if she grows without structure, she is going to sacrifice her family time and increase her stress level exponentially. Therefore, I suggested her word for 2016 was rules. Rules for working with buyers. Rules for working with sellers. Rules for who was going to handle the various tasks in her business. If she lays down those rules now, she can grow in a very strategic manner.
As she goes through her year, if she is asked to work with an out-of-area buyer, she just needs to refer mentally to her rules for buyers. If it is out of the area, her rule might be to refer it.
Some other words my clients are using in 2016 include: "focus", "empowered", and even "own it"!
What is your word for 2016? Share it here!