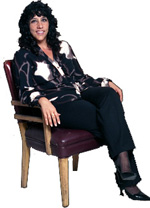 Q: "Denise, I was hosting an open house last week and I was playing some rock music very softly over the home's sound system (partially because I wanted to highlight the speakers which were throughout the house). However, I had a couple complain. Should I not play music?"
A: Interesting question! There are pros and cons to music at an open house, or a showing for that matter. The pro is that you can set a mood. The con is that you never be able to appeal to everyone's senses since music is based on individual tastes. You might think you are safe playing classical but that may make the house seem dated to some people. Or  you may elect to use jazz but the repetitive snare drum may make some people anxious. Finally, some people find background noise distracting. I like the idea of it – and the more neutral genre the better – but you need to know that not everyone will appreciate it.
One other thing to note – if you are using music in a business setting, you need to make sure you have either licensed it appropriately or are using music that is in the public domain or available for commercial use.