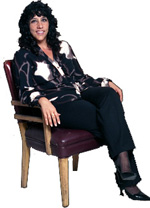 Q: "Denise, I made a big faux pas last week and it is just killing me. I accidentally called my client's new wife by his ex-wife's name. Both have been clients of mine and it was an honest mistake. I had been showing them homes several times per week but since this happened they won't return my call. What should I do?"
A: First of all, this type of thing happens all the time, so don't beat yourself up too much. I am sure that this happen to the new wife several times before people are used to the transition.
Are you sure that their lack of communication since is directly attributed to calling her the wrong name? They aren't just busy or an emergency hasn't come up? Sometimes we perceive that the mistake has much bigger ramifications than it actually has had, so before you apologize with a big gesture and make it worse, dig deep and think about the reaction right after it happened. Did everyone laugh? Did she burst into tears? Was there just uncomfortable silence? Did you apologize?
If there was uncomfortable silence, you apologized, and the rest of the day seemed awkward, then you may indeed need to mend some fences. I think an honest, heartfelt apology is in order. State your truth, indicate you feel awful, apologize and then move on and discuss some particular houses you want them to look at this week.
My apology might look something like this, "Janice and Bob, I just want to clear the air over my faux pas last week. Janice, for some reason my brain wasn't entirely working when I accidentally called  you by the wrong name. It has been eating me up and I hope you know that it was an honest slip of the tongue. I apologize wholeheartedly and hope you can forgive me. If you would like to talk about it further, I am happy to do that, but if you are ready to look at more properties, I have some good ones that came on the market over the weekend that I would love for you to go see."
This way you have addressed the issue, haven't made it a bigger deal than it may be, and have given them an honest, heartfelt apology. Let them take the next step and know that you have done your best to address this awkward situation. Remember, you are human and allowed to make mistakes.