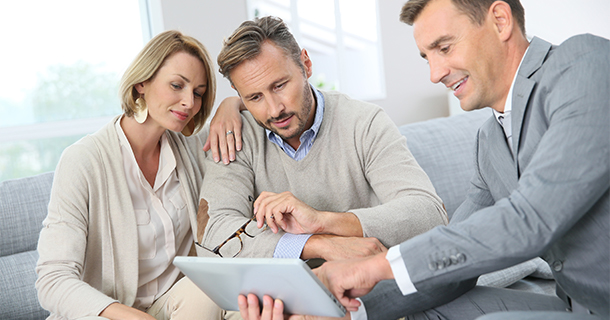 I want to take a moment to discuss the importance of learning how to instill calm communication and conflict resolution at a listing presentation, especially when it comes to talking about price and handling objections.
Too many agents make the mistake of rushing to present all their research and show all their marketing that they forget how important it is to communicate. They forget to ask questions, make eye contact, and slow down when providing information. And this is absolutely critical in building rapport and helping the seller(s) understand how you work. 
There is nothing worse than being on the other side of the table and being talked at by a salesperson determined to get through his or her presentation. I am sure you can think of a situation in your life where a salesperson talked over you, did not pick up on your body language, or directed all of his/her statements and questions to your spouse/partner.
My advice? Do a better job of tuning in!
Tune in to the clues that the seller is leaving you. If you walk into the presentation and they immediately ask about where you are recommending the house be priced, don't avoid the question and spend 45 minutes talking about your marketing. While some real estate coaches encourage avoiding the seller's objections and sticking to the script, I find this approach distasteful on behalf of the seller. I encourage everyone I coach to employ my special "whack-a-mole" technique when it comes to seller questions and objections.
Imagine a Conversation
Imagine this conversation between a listing agent who is following a script and their client:
Agent "… your home listing will be syndicated on 30 websites including Yahoo Real Estate, HGTV's Frontdoor, Zillow, Trulia, and REALTOR.com. And of course, it will also be picked up on every company's website that displays the information from the MLS. It will also be featured prominently on my website."
Seller "Are you going to do open houses every weekend?"
Agent "I will cover that in just a second when I discuss your personal property marketing plan."
The seller wants an answer to his question. He doesn't want to be put off. Here is how that conversation would look whack-a-mole style:
Agent "… your home listing will be syndicated on 30 websites including Yahoo Real Estate, HGTV's Frontdoor, Zillow, Trulia, and REALTOR.com. And of course, it will also be picked up on every company's website that displays the information from the MLS. It will also be featured prominently on my website."
Seller "Are you going to do open houses every weekend?"
Agent "I do find open houses to be an effective way to market properties when they are in a great location and are priced at the market. We haven't had a chance to discuss price yet, but I will tell you that your home is in a great location and feel that it would receive a lot of traffic. Have you had success in selling your home in the past as a result of open houses?"
By my whacking the mole instead of avoiding the question, this has given the agent an opportunity to dig a bit deeper about the seller's past open house experience and leave a hint that price may be a factor in having open houses.
Now, the seller could have answered the agent's question with:
Seller: "Bah! The last agent that tried to sell my house insisted on open houses every weekend! We were constantly cleaning the house and had to leave every Sunday. I missed the entire football season! People tromping through my house, moving my stuff and leaving dirt on the rug. And in the end you know who wound up buying my house? Some family from out of town that never even came to the open house! What a waste of time!"
The seller has just raised another objection – this time around the effectiveness of open houses. And this is not a mild objection. The seller not only feels very strongly open houses, he has left a few clues that the agent needs to pick up on:
He finds keeping the house clean a bother. This might be a problem in keeping it clean for regular showings. Make a note to address that before the listing is signed (you should have a document for seller expectations so there are no surprises).
He doesn't like having his stuff moved around.
The last agent didn't do a good job of returning the house to the condition he or she found it in.
The house was likely overpriced if it sat on the market for weeks and weeks.
He values his time. Especially time on Sundays during football season.
An agent following a script would find themselves completely derailed by his comments. However, a communication-savvy agent sees an opportunity and armed with new clues, proceeds:
Agent "Wow!" (the agent needs to match the intensity of the seller's statement and acknowledge his feelings) "It sounds like open houses weren't effective in getting your home sold to that particular buyer. Did your agent share any ideas as to why your home wasn't garnering any offers as a result of the open houses? That does sound like a lot of weeks to have an open house without a result."
Seller "No idea. I had to constantly call for updates from the agent. It was like pulling teeth! And he wasn't even the one holding the open houses. Frankly, I didn't hear from the agent until we had an offer from the buyer!"
Look at how many clues the agent picked up from that one additional question!
The last agent didn't do a good job of communicating with the seller and that frustrated him.
The last agent didn't hold the home open himself and that frustrated the seller – especially that the house was not left in good condition.
This seller did not have a good experience from his last agent.
This is a great time to acknowledge this last point.
Agent "It sounds like you didn't have a great experience with your last agent. And I want to assure you that I operate completely differently. First of all, I have a system for communication that is based on how you like to be communicated with whether that is in person, by phone, or by email. I also provide a weekly report to my sellers which outlines the activity we have seen in the past week.  I also include what marketing we have on the agenda for the upcoming week. Open houses may or may not be part of that plan, but that is something we can address together. Would you like to go ahead and discuss our communication plan in more detail now?"
By whacking the mole and asking questions of the seller, you have the opportunity to learn more about the issues they really care about and perhaps their expectations and concerns from previous experiences. Also, when you address their concerns directly, it shows that you are listening and care about having them be part of the process.
Practice Silence
Sometimes you have to utilize the skill of silence, especially when speaking your truth. When we tell someone something they may not want to hear, they sometimes need space to absorb it. But what are we naturally inclined to do? Talk faster and throw a whole lot of information at the person, trying to justify your position.
Like in the following example:
Agent "I know you want to get $400,000 for your house, but that is $75,000 over where my research has shown us your house should be. In fact, no home in this neighborhood has sold for over $375,000 ever! Your neighbor's house sold for $369,000 and it has 500 more square feet than yours. Not to mention you have the retaining pond 50 feet from your back door. You are also not taking into account…"
Too much babble! The seller needs time for the first statement to sink in. This is how it should look:
Agent (in a very calm and quiet voice. Very slowly) "I know you want to get $400,000 for your house, but the market is showing us $325,000."
Then silence! It will be very difficult to sit there and not say anything. In fact, it will be downright painful. Especially for agents with supporter personalities who want to soften the blow of what they just said.
However, there is strength in silence.
Shhhh! The seller will speak. Just sit there calmly and make eye contact. Not aggressively, but calmly. You may want to practice with another agent or even a family member first if the thought of not saying anything is making your skin crawl.
Remember to use silence, a quiet, calm, and slow voice, and space in the conversation when you are making a point.
Five Skills Worth Mastering
In addition to silence and space, the five other communication skills I recommend every agent work on include:
#1 Reading Body Language
Get tuned into reading body language. If you don't know where to start, you can either do a little research online. Understanding body language is absolutely critical at a listing presentation. You must understand what someone's body language is asking for. Are they confused? Are they resisting your recommendations? Do they distrust the information you are giving them? Did you lose them 10 minutes ago when talking about price? Have they already heard enough and are ready to sign?Sometimes you might need to stop talking and ask, "Would you like to hear more about what I am going to be doing to market your home online or are you ready to move onto our communication plan?" If they sigh and indicate that "perhaps we can move on …" don't just ignore the comment. Whack that mole! "We certainly don't need to cover everything that is on this agenda if you are short on time. What are the topics you are most concerned about?" And once they tell you what they want to hear about, be sure to add, "I want to be respectful of your time. How much time do we have?"
#2 Engaging Everyone
Make sure you engage with all parties, not just one person. Time and time again I hear agents say, "Well, the husband really liked me and wanted to work with me but the wife obviously didn't warm up to me at all." That's probably because you focused all your attention on the husband! Learning to engage equally with two or more individuals live is a skill you can – and must! – learn. Be very conscious of this when you're meeting someone live.
#3 Asking Everyone
Ask relevant questions and get people talking. Effective communication which builds and cements relationships is asking a questions such as, "What was your last experience in selling a home?" This kind of question opens the door to engagement, and allows the seller to feel involved in the conversation and the process.
#4 Making a Great First Impression
Leave a phenomenal first impression and final impression. If you come into the listing presentation with your portfolio case of tools (and trust me, showing up with a simple portfolio case already has the seller wondering what you have in there), with a great smile, handshake, and introduction, this leaves a memorable impression. What is the last thing you say to somebody before you leave that intrigues and engages them? If you don't have that figured out, think about what that looks like and what materials you are leaving with the seller at the end of the presentation that will make them want to pick the phone back up and call you if they aren't ready to sign the listing agreement at that first meeting.
#5 Following-Up
Appropriate and timely follow-up is critical. So many agents who start out well with the first four points fall down miserably here. They're great in front of the potential seller, but if the listing agreement isn't signed there and then, there must be a plan for ongoing follow-up. With most agents, it is out of sight – out of mind. But it is the agent who puts together great material to send whether it is for days or weeks after the listing presentation who will likely put up the "for sale" sign in the seller's front yard. Make the time or energy for stellar follow-up or all the time and energy you put into your pricing research for the initial presentation will be for naught.
There is no doubt that an agent who can implement the "whack-a-mole" style of handling objections will quickly be able to master the discussion about price with a seller. Especially when equipped with all the research and tools we provide in The Pricing System. Agents who are confident and have their toolbox can instantly be elevated to "expert" status.