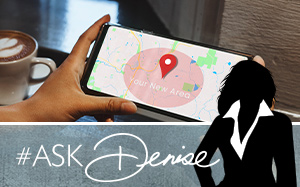 Q: "Denise, I have just moved to a new area that is about 100 miles away from my previous area. I already have referral arrangements in place with agents in my previous location so I will still have some income coming in, but now I really need to ramp up in my new location. What is the best way for me to do that?"
A: Congratulations on your move! With the basics, you can parachute anywhere and have a strong business up and running in no time. It is all about identifying the different layers of connecting you will be doing and making sure you are executing consistently. These are the five things I would focus diligently on:
1. Learn your market – Start by price points and learn what you can get for these price points in different areas and neighborhoods. Preview properties. Learn what new construction projects are available and in the area. Review the solds from the last six months and look at the different stats for inventory, days on market, and sold prices in different areas of town. Go to your office meetings, build relationships with other agents and your broker, and set up meetings with lenders and other industry professionals.
2. Get to know your local industries – What industries are the main drivers of local employment? Are new industries moving in or expanding? How is the local office, retail, and industrial space situation? Get to know the local employment situation by reading up on local economic publications possibly from your Chamber of Commerce or local business associations. And while you are at it…
3. Join a group! Or two or three – This is the quickest way to start to build connections. Although you can build your formula any way you like, my recommendation is to find a business group (such as a group of local merchants, the Chamber of Commerce, Tourism Board, etc), a service group (such as the PTA, school boosters, Scouts, Rotary, etc), and then something that is an interest or hobby of yours (birding groups, book club, knitting, or even a group exercise at the gym). You may not find that you want to continue with all of these, but I would commit to all three for at least a year. Show up, meet different people, volunteer in a way that gets you to associate with new folks and you will be amazed at how quickly you find your place in the community…and people who need to move find you.
4. Build your database – Since you will likely have to build a local database from scratch, start connecting and conscientiously meeting and adding folks each week. You should easily be able to add 3-5 new people per week. In just a few short months, your database will be at a healthy number and growing.
5. Determine a lead generation faucet – When you are new to an area and learning about the local inventory, this is also a great time to put your sleuth hat on and learn about the products that are selling quickly in your market OR present opportunities to generate leads. For example, if you notice there are a lot of expired listings, this might be a great opportunity to learn about why listings typically don't sell in the area. Is it price? Is it poor photography or marketing? Look for clues. Or what about For Sale By Owners? Are there any recent zoning changes that might present an opportunity to reach out? Of course, you should also add floor time in your office and possibly open houses if these are viable in your area. There are so many ways to generate leads. Take this opportunity to find the right fit for your business and your area.
Good luck and keep working your plan.