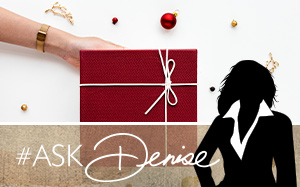 Q: "Denise, I want to do something special for my past clients this year for the holidays. I already do an annual property report in January and don't want to do a client appreciation event. I am thinking of something like a gift. What ideas do you have for a great client gift?"
A: That is a good question! You didn't name a budget but I am assuming you don't mean that you intend to fly everyone to Paris for the holidays. Below are some suggestions for several different client gift ideas in multiple categories and for varying budgets:
Something to Enjoy
Think holiday pies, cookies, or even something like a gingerbread house decorating kit with your logo on it! You might also consider having a wine custom-labeled direct from a winery or custom-labeled specialty olive oil. Or put together a basket of crackers and cheeses – always handy to have for the holidays.
Something to Do:
I know you said you didn't want to hold an event, but perhaps there is a screening of a classic holiday film at the local theater that you provide tickets for or a play. Maybe you get a little edgy and get passes to the roller derby or something unexpected. I would avoid a simple restaurant gift certificate, but maybe there is a special thing that restaurant offers such as a cheese tasting – something memorable.
Something to Keep:
Some agents like to give usable household gifts such as engraved Cutco knives and cutting boards. You can also think about other thoughtful and functional gifts such as a doormat with their name (and possibly your logo small in a corner) or a throw. But I do advise against getting general décor items as that is very personal and it is easy to get it wrong.
Something that Increases the Value of Their Investment:
I know it isn't super-exciting to open, but what about a gift of maintenance or improvement? For example, gutter cleaning, annual furnace maintenance, or even duct cleaning are things homeowners hate to pay for, but are necessary  Or what about an energy audit? Once the audit is done, if the homeowner makes the recommended changes, it can save them hundreds on their power bills each year. Now that is a gift that keeps on giving!
I hope this list inspires you to find the perfect client gift!