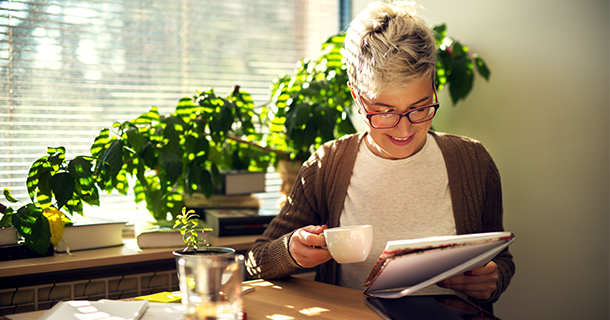 There is no doubt we are in unprecedented times. For most of us, this creates a heightened degree of stress and uncertainty.  Over a third of the country has been asked to stay home and our once booming economy has come screeching to a halt.  When can any of us remember being told by the government not to go to work?  While this seems somewhat terrifying, we all know that it is for the greater good of all of us.  So here we have it, we are being told to stay home and be still. 
For many real estate agents, asking them to be still is like asking a shark to stop swimming, it's just not possible.  For many of us, we thrive on busyness and routine, the thought of being still is terrifying.  But there is power in being still, power in slowing down, power in reconnecting with ourselves, and power in not doing anything.  Use this precious time we have been given to reflect and make new priorities, new tasks, new connections, and new to-do lists.  If being busy is what you thrive on, then find tasks to do at home.  If connecting is what you thrive on, then connect in a new way; perhaps by sending text messages, calling loved ones, or even by the traditional, good old-fashioned writing of letters, notes or cards.  And if you just want to feel good, then do something good for others.  Whether that is simply making a donation to your local hospital or paying for a first-responders coffee at your local coffee shop drive through, doing good always feels good.
Extra worry and panic have never served anyone well, and this is a time to dig deep and use your time wisely.  With all of the frightening news that we are bombarded with every day, it is no wonder we are all chomping at the bit to get back to our regular schedules.  Please trust that this will pass, and that we will all be back to our regular schedules soon.  Whether we want to believe it or not, this virus will affect each of us in a profound way.  For some, it will remind us how important it is to slow down once in a while. Yet for others, it hits home the point about needing an emergency fund in the bank.  No matter what lesson we each learn, we will all be better because of it. There is power in being still, you just have to allow it to happen.
By Denise Lones CSP, M.I.R.M., CDEI – The founding partner of The Lones Group, Denise Lones, brings nearly three decades of experience in the real estate industry. With agent/broker coaching, expertise in branding, lead generation, strategic marketing, business analysis, new home project planning, product development, Denise is nationally recognized as the source for all things real estate. With a passion for improvement, Denise has helped thousands of real estate agents, brokers, and managers build their business to unprecedented levels of success, while helping them maintain balance and quality of life.