5 Tips for Effective Social Media Marketing That Won't Cost You a Dime
One great aspect of being a self-employed real estate agent is that you get to tell the story of your business on social media. The goal of social media marketing is to remind past clients that you are actively open for business and you're an engaging and professional solution to their real estate needs. To do this, it's essential to draw them in, keeping them entertained and wowed with your knowledge. As a business-owner, you get to decide what to post and how you come across. The more you engage people, the more exposure you will get. Here are a few tips for making the most efficient use of your precious marketing time.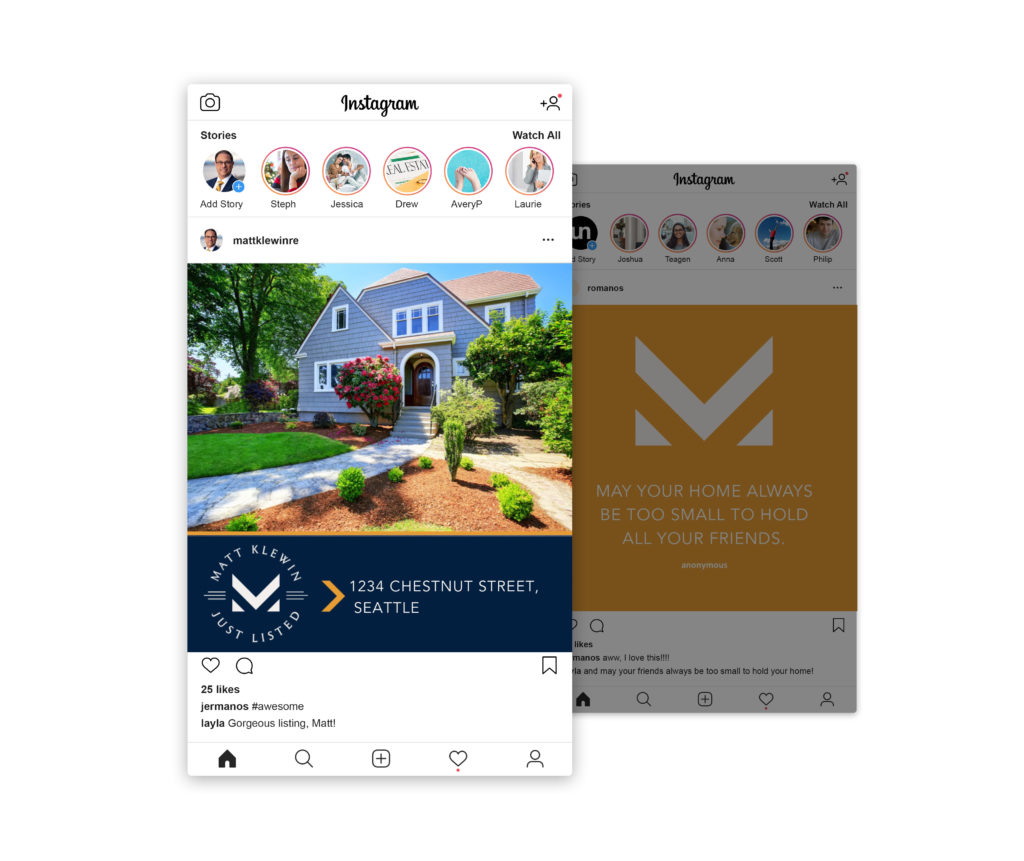 Consistency
The best way to build followers is to consistently post content. Whether daily, weekly, or monthly, identify your posting goal and stick to it. A common mistake people make is to start posting once a week and then give up a month or two in when they are not receiving the engagements they had hoped. Don't be afraid to start small and work into more regular posts. To maintain your goal, it's important to make a habit of posting regularly. We suggest planning post topics one month in advance to make sure that come posting day, you will have taken out the guesswork of deciding what the post will be about.
More Than Just Listings
If your only posts are just listed and recently solds, you are less likely to build a following of former clients. It is likely that if they are already following you, they have recently bought or sold a home. Instead, focus on establishing yourself as the go-to expert. Post helpful tips, market stats and infographics, quotes, interior design advice, client questions, testimonials and more! The sky is the limit. Play to your strengths.
Remember, social media is a great place for asserting your authority. If your niche market is luxury waterfront residences, for example, use social media as a place to share information about deck decoration, beachfront rules and updates from the Department of Ecology. This is your time to showcase your expertise!
Design
Once you have the content in place, your next job is to make it look great. The key to social media posts is to make each one look consistent. For example, when your client Becky, a 32-year-old past buyer, is scrolling through her Instagram feed and sees your latest interior design tip of the week, will there be a logo or something on your post that will make her think of you, or will your post be just another picture of a living room? By creating a consistent visual theme, each post will appear to be part of a series of other posts, showing that you have an organized method to your strategy.
To obtain this visual consistency, we suggest using the same combination of colors, fonts and a standalone logo graphic every time. Not only will your posts stand out and look ultra-polished, but it will help boost brand familiarity.
Visual interest is key. Your post visuals need to be large and attention grabbing. When it comes to aesthetics, the current style is to make images look light, bright and airy. To build upon your authenticity and approachability, strike a balance between beautifully staged images of interior decor, and photos of you getting down and dirty to help a client prepare for a listing. Remember, don't make your business look perfect. Make your business look real.
The Specs
The best way to set up easy to use, consistent-looking social media graphics is to make a branded template in your preferred publishing program. Using this template, you can easily combine shapes, colors, logos and pictures to create one single image or graphic to post. A template will keep you from having to reinvent the wheel with every post, allowing you to swap out images, replace text, and post within minutes. We can build social media templates in Publisher, InDesign and Canva.
For Instagram templates, square-shaped images are the best way to go. When posting images to Facebook, we recommend a ratio of 1200 pixels wide by 630 tall.
Since all publishing programs are different, feel free to reach out for our help setting up your template and saving the file for online use.
A Note About Disclaimers
Keep in mind that social media marketing is still marketing. Be sure to check with your brokerage, the MLS and state regulations for including the proper disclaimers and firm representation on all digital marketing materials.
---
Did you know that our team offers social media consultations? We will assess what you are currently doing and what you need to gain the upper edge. Posting on social media should be a fun and enjoyable side of your marketing efforts. Whether you are a first-time poster, or a seasoned social media marketer, remember to ask yourself what your clients need from you. With consistent posts, you will get a community of raving fans in return. Contact us here to get started – [email protected].
---