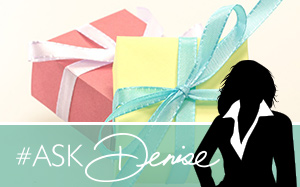 Q: "Denise, I am thinking of putting together a little Covid-19 care package for my past clients. What do you think and what would you include?"
A: I think that is a great idea to stay connected and let someone know you are thinking about them. There are a few ways you could go with this:
The "Your Name" "Stay Home" Survival Package
This might include a few of your favorite things – the things that are getting you through. Maybe it is a great pair of socks, special cookies, and a coloring book with some pens. Or maybe you have been cleaning your office via Marie Kondo's, "Joy at Work: Organizing Your Professional Life." Whatever has been inspiring you might be a nice thing to pass on!
The "Support the Locals" Gift
It is no secret that local retail and restaurants have been having a very difficult time, so many of my clients have been buying gift certificates from these local establishments.
The "Get Outside" Package
This could take any number of forms. It could be a pot with some herbs for a patio or deck. It could be an outside yard game. It could even be a campfire package with supplies for s'mores and some firewood.
Of course, care should be taken to make sure you are following your local guidelines for staying safe. You may be able to order some or all of this online and put it together to leave on a doorstep or in the case of the gift certificate, that might be something you can order online and deliver via email. But if you don't have the opportunity to make a delivery, then absolutely pick up your phone and do a quick Facetime, BombBomb video, or even make a call. This is a great idea and I can't wait to hear how you are implementing it!