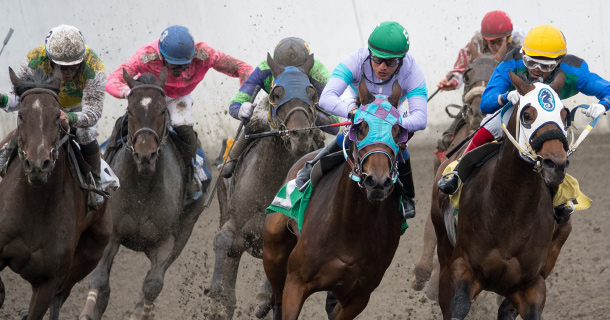 Some of my fondest childhood memories were at the racetrack. Yes, that is correct, I said the racetrack.  The photo above was taken only a month ago by my sister Debbie at my favorite childhood racetrack.
Let me explain. My father was a restaurant owner and many of his patrons were the trainers and jockeys from the local racetrack. He became friends with many of them and before I knew it, he had bought some racehorses and my years of joy and pure bliss being around horses began. I can attribute my love for all animals from this time of my life. There was nothing more beautiful than being around those incredibly powerful and beautiful equine athletes.
I spent a lot of time learning how an average performing horse could be transformed into a top winning athlete. I learned so much from listening to the trainers and watching the horses prance around the paddock then line up at the starting gate for their daily warmups. Nothing was more exhilarating than watching the horses as they raced around the track and down the backstretch.
One day I noticed that my father's trainer pulled one of his horses from the track after the horse had a bad warm up. When I asked him what he was doing, he said he was "halting" the horse.
"What is halting?" I asked.
He quickly replied, "It is the best way to train this horse out of his nonperformance ways!"
I was completely baffled but quickly found out what the trainer was doing and what the "halting" concept was all about.
The trainer explained to me that basically the horse was being lazy and was probably burned out. The horse had lost his drive or his motivation to win. He explained that when you pull a horse out of his usual routine and take him off the racetrack and put him into his stall that you are "halting" his normal routine. This creates confusion for the horse and that if you "halt" them long enough that they will snap out of their poor performing ways. I initially thought this was ridiculous horse reverse-psychology that was sure to fail, but boy was I completely wrong.
Time after time I would witness a horse finally reach its peak performance after being "halted".  In fact, "halting" was a very successful training tool.
Fast forward to many years later when I was running a large real estate brokerage. One day I noticed that one of my agents had missed 3 of our weekly sales meetings. I remember thinking, hmmmm if "halting" works with horses why not with people? So, I immediately called my agent and "halted" him from coming to meetings. What I told the agent was that missing meetings was not part of our office culture and that I would give them two weeks to decide whether they would comply with my mandatory weekly meeting requirement. However, for the next two meetings they were not allowed to attend (I was "halting" them in my own special way).
The agent initially pushed back…but after two weeks of not being "allowed" to come to meetings, that agent never missed another meeting.
There have been many times over the years that I have encouraged agents to "halt" themselves to help push past their burn out or lack of motivation.
Right now, real estate agents are being forced to "halt" as they are forced to shelter in place or whatever the local lingo is.  "Halting" can lead to your most productive peak performance ever, so please take advantage of this time to rest up and get recharged. The frustration you may be going through now could be one of your most powerful peak performance tools this year. Use this time to rest, assess the projects you now have the time to complete, and the clients you need to connect with. Utilize "halting" to help you push your own peak performance.
Enjoy my slideshow of photos that convey what being around these amazing animals is like!
By Denise Lones CSP, M.I.R.M., CDEI – The founding partner of The Lones Group, Denise Lones, brings nearly three decades of experience in the real estate industry. With agent/broker coaching, expertise in branding, lead generation, strategic marketing, business analysis, new home project planning, product development, Denise is nationally recognized as the source for all things real estate. With a passion for improvement, Denise has helped thousands of real estate agents, brokers, and managers build their business to unprecedented levels of success, while helping them maintain balance and quality of life.